Social Links Widget
Click here to edit the Social Media Links settings. This text will not be visible on the front end.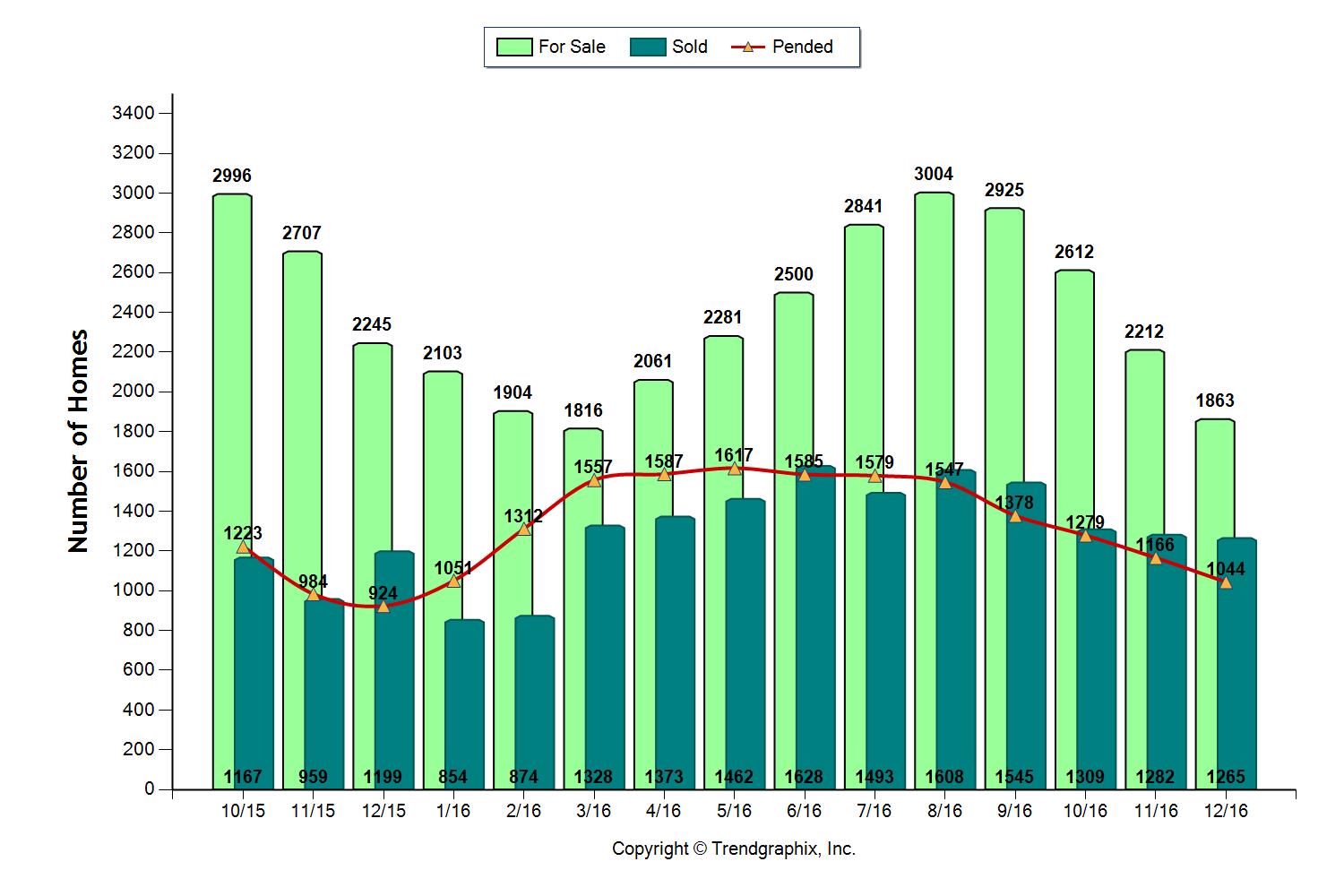 The U.S. economy is providing a very positive backdrop of low unemployment, new highs in the stock market, and housing appreciation is firmly on the march. Pierce County is also enjoying it's share of good news and economic fortune, 2016 was a great year of continued recovery.  Looking ahead, Pierce County has some serious considerations that will determine it's future and the role it plays in our region's economy. First, here are the end of year end numbers as measured December 31, 2016.
Inventory – DOWN – 17%
Closings – UP – 7.9%
Median Price – UP – 10.5%
New Pending Contracts – UP – 13.8%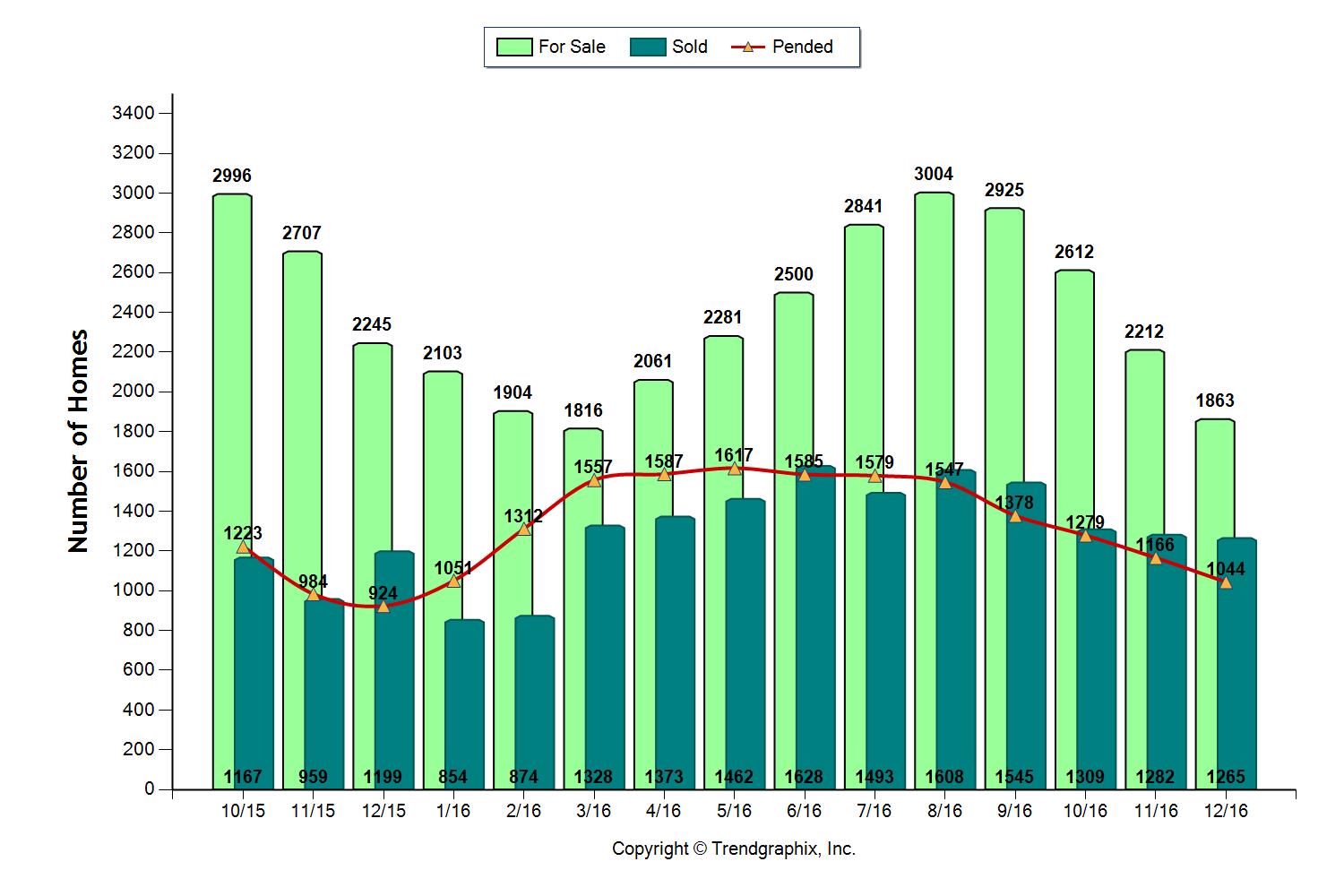 Pierce County, by these numbers, has only 1.7 months worth of inventory. We consider 3-5 months worth of inventory to be a balanced market so there is clearly need of more homes to sell in order to satisfy current buyer demand.
Prices in Pierce County are up 26% in the last 3 years (compounded rate of 8% annually) and the median price has fully recovered from the great recession.
As shown by our Pierce County Median Price Index we are at our pre-recession peak. By comparison,  King County prices are 13% above their previous peak. The affordability index in Pierce is fully 45 points better than King County.
This recovery in price also means we have far fewer homeowners with negative equity. When a homeowner owes a mortgage balance greater than their home value they have negative equity.  In 2011 & 2012 we were seeing negative equity rates in Pierce County upwards of 26% of all mortgages.  Measured in the second quarter of 2016 the rate was a much improved 9.7%.
Price recovery is accompanied with Velocity and Volume recovery.  Last year Pierce County sold 15,082 residential units representing a 13% increase over 2015.  This amounted to just over 5 billion in sales and is expected to top 6 billion in 2017.
I feel bad clouding this good news with the following, but it clearly is an issue that is relevant to the health and future of our Pierce County Housing Market.
Here it is: Jobs, Jobs, Jobs.
The King County market is red, no….white hot!  Why?  The King County number of jobs per resident is 207, in Pierce County the number of jobs per resident is 82.  The unemployment rate in Seattle is 3.7% while in Pierce County it is 6%.  Compare Pierce to U.S. with unemployment rate of 4.7% and see the weak recovery path in the graph below.
After each of the 3 previous recessions, Pierce County unemployment recovery was better. In the 90's Pierce recovered to 4.5% unemployment, the pre-recession recovery was in the 5's, while the current recovery has only reached 6% and it appears to be a post recovery low.
Pierce County's per capital income is $45,000 and would not be that good were it not for King County jobs.  We are fighting a trend of becoming a bedroom community.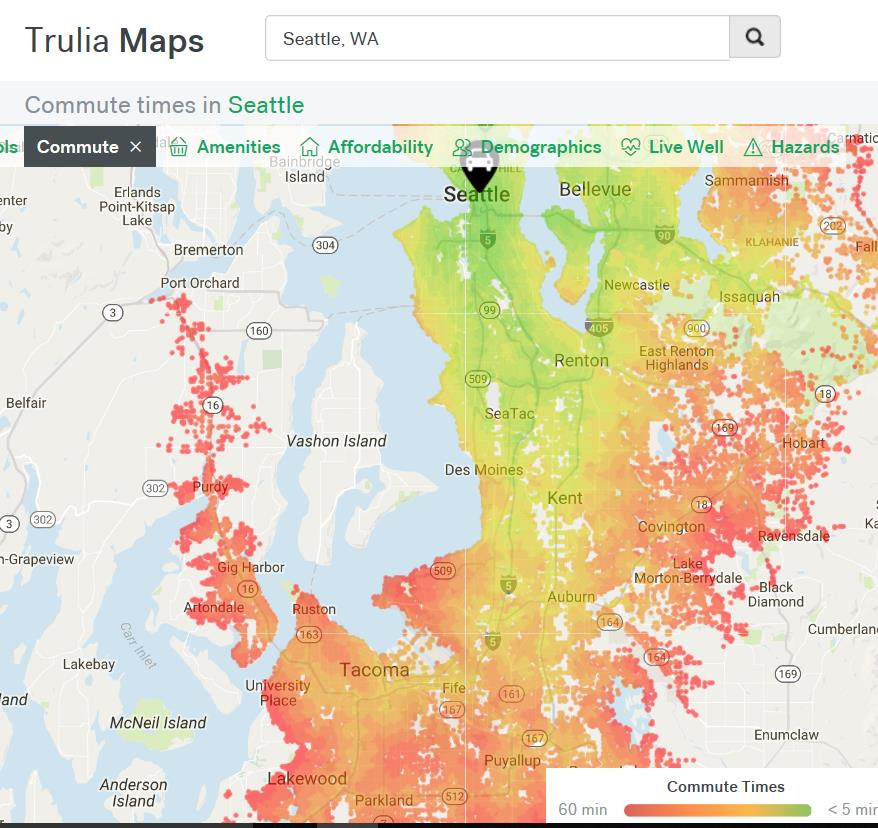 Fully 135,000 Pierce County residents have jobs outside the county.  Put another way, 40% of the non-military work force don't work here.
The effect on real estate is the commuter buyer/renter is a big part of our market and will continue to be that way until Pierce County improves it's workforce skill and attracts new businesses.
With the Pierce County shortage of inventory and the pressure of high prices in King County, homeowners in our area will enjoy another year of increased values, likely in the 9-10% range.
Buyers will need to be fully pre-approved, able to react quickly, and be open to the idea they will likely compete for their dream home.
Yes, it will be a good year for real estate in 2017, but there is work to do if Pierce County wants to be more than just a place for Seattle skilled workers and executives to come home and sleep until they can afford a home closer to their job.
Evidence of Slowing Appreciation and Reversion to Normalcy.
Also, how King County's trending may soon affect our local market.
Markets Continually Seek Balance The Pierce County Housing market as measured by August 2014 numbers gives us a clear indication it is efficiently balancing and allowing home buyers and sellers to participate with predictable results.
Inventory – UP +11%
Closings – Down -02%
Pending Sales – UP +21%
Months of Inventory – UP last year +3.2 this year + 3.6
Median Price – UP +5%
With inventory at 4,282 units it is the highest it has been all year. In fact it was December 2011 since we had that many homes for sale in Pierce County. At that time we were steadily coming off the crazy high level of inventory that was the result of the housing crisis which peaked in August of 2007 at 9,022 units for sale. So how much inventory should we have? To have a balanced market, we need 3-5 months worth of inventory. In the last 14 years, which includes pre and post bubble markets, Pierce County has sold an average of 11,766 homes per year. Using that average we have 4.4 months inventory. Pendings are up 21% as we close out the summer so we may exceed 12,000 units with a strong finish in 2014.
The peak of the Pierce County price index was 7 years ago! It has taken a long time to work through the huge impact of the housing market spinning out of control. Prices fell consistently for 5 years until reaching bottom in February 2012 and as of this month we are 39% up from that low! We've seen peak inventory levels as mentioned above when we had as much as 12 months worth on inventory and we've seen shortages like in March of 2013 with only 2,800 units for sale. It is refreshing to be at or near a normal inventory level!
Our recovery experience is comparable to other parts of the country. This CoreLogic map shows the State of Washington still 10.8% below it's peak market levels compared to other parts of the country that are either fully recovered or, like hard hit Nevada, still down over 37%. Ouch! It's always a good idea to break the numbers down to more localized evaluation and in this case I can tell you Pierce County is still 18% below the peak. What's interesting is Pierce County is at the same price level as June of 2005 while King County is at June 2006. With King County that much closer to the all time high, doesn't it seem logical that more of those buyers will be exploring Pierce County?
The road ahead. The Home Price Expectation Survey is a nationwide panel of over 100 economists, real estate experts, and investment or market strategists. I like this report because it is not the opinion of just one market expert, but a cumulative average of over 100 experts. Their 3rd quarter report is out and the graph is posted here. If Pierce County continues to generally follow the pattern of the rest of the country we will see cumulative appreciation of over 18% by the end of year 2018. This would put the Pierce County median price at about $280,000.
If you're a buyer in this market you can make your purchase decision with confidence that you're making a good long term investment. If you're a seller it is nice to know there is a balanced market with predictable fundamentals and a pool of buyers you can strike a deal with!
The Pierce County real estate market continues to lag behind King County, but there is light at the end of the tunnel and values are approaching 2004 – 2005 levels. For more details see the full article that was on yesterday's front page of the News Tribune.
Thousands in Pierce County trapped in underwater mortgages
Read more here: http://www.thenewstribune.com/2014/05/11/3189519/many-in-pierce-county-are-trapped.html#storylink=cpy