3 Things You Need to Know if You Want to Buy or Sell This Year
The Pierce County real estate market is playing out much like we forecasted in 2017 with tight inventory, fierce competition for good homes and sellers in control. Interest rates have stubbornly remained historically low despite some uptick. This has helped to allow Buyers to afford the higher prices sellers are asking and we've seen appreciation continue at a brisk pace taking Pierce County past the pre-recession peak of $285,000 to $315,000 at the end of June. Sounds great? The answer may depend which side of the table you're sitting at  AND what price range you're transacting in. I'll talk about some tips for navigating the Pierce County Market in the second half of 2017 but first let's look at the current year over year numbers.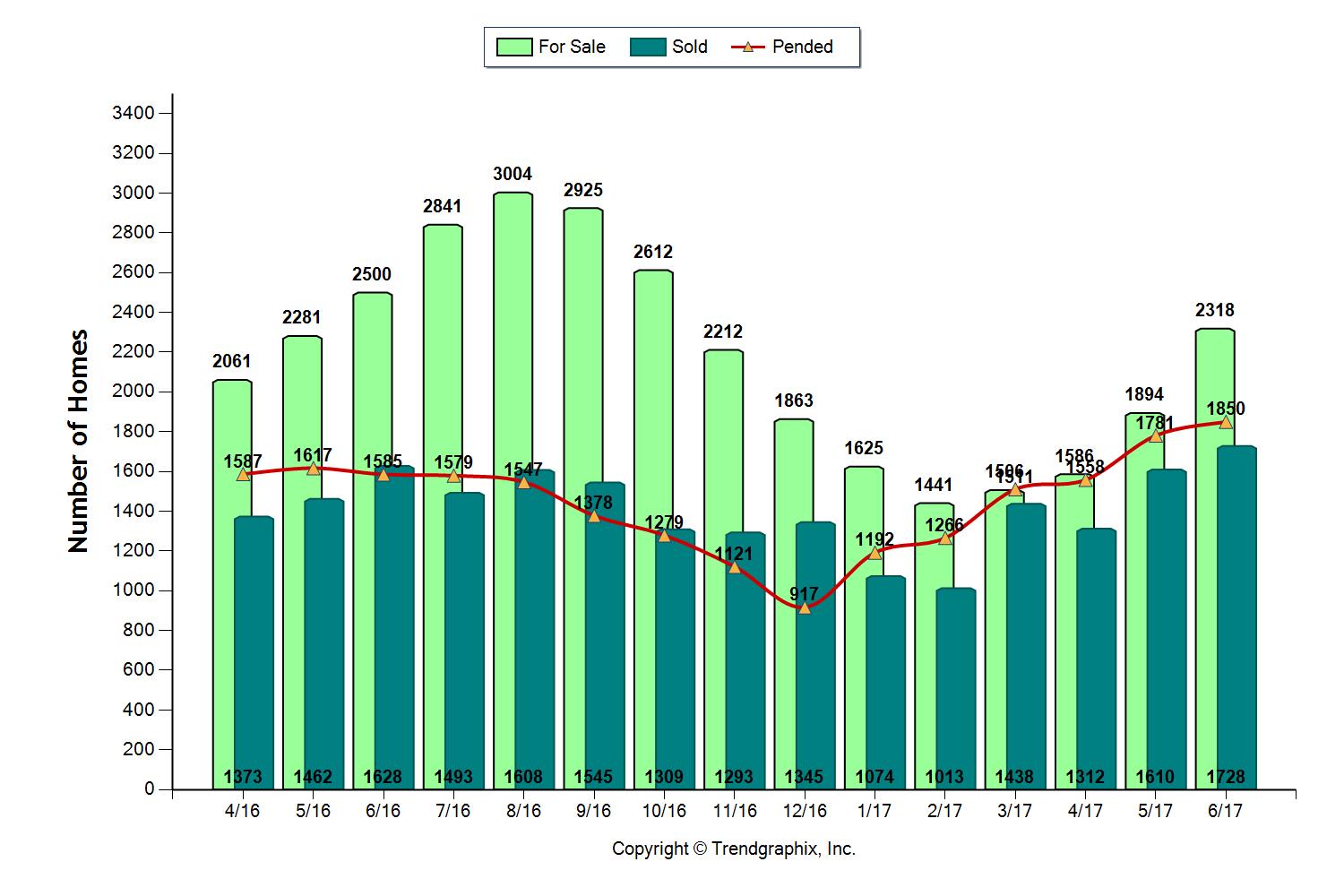 Inventory – DOWN – 7.3%
Closings – UP – 6.1%
Median Price – UP – 10.9%
New Pending Contracts – UP – 16.7%
As I said, your interpretation of these numbers will depend if you plan to sit on the seller side or the buyer side of the table.  Decreasing inventory with increasing sales makes the timing near nirvana for sellers while buyers struggle and sometimes have to write 4 or 5 offers before they win a bid and get their new home under contract. But what if I told you Pierce County has 2 markets in play at the same time? Actually, we do. The farther up the price ladder you go the more the market fundamentals normalize and even tip in favor of the buyers.  It's true, the robust Puget Sound real estate market making headlines is not sharing it's bounty equally among sellers.  Consider this, the sales ratio in Pierce County for homes priced $400,000 or less is a whopping 119%.  That's a big number when we recognize a balanced market is 55%.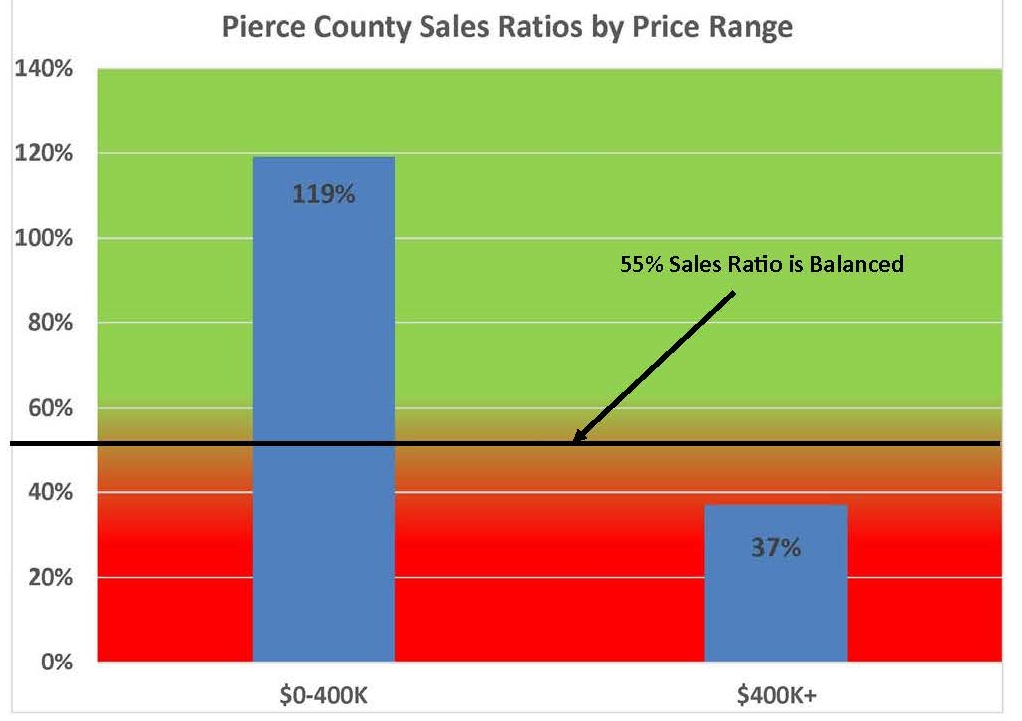 Anytime the number of homes pending under contract exceeds the number of homes actively for sale we have what is called an inverted sales ratio.  This is the crazy market condition that is driving the headlines and making for real price gains and difficult buyer experiences.  But check out the sales ratio for homes priced $400,000 and up on the graph above, it is below average at only 37%.
Tip #1 Buyers and Sellers
Buyer & Sellers must know the numbers in the area and price range they plan to purchase or market their home for sale.  There is actually a full spectrum of market conditions that will both predict your experience and determine your outcome.  Ask your broker how many homes are for sale and how many are pending contract in your target price range and geographic area.  Divide the active into the pending and convert to a percentage.  If the number is 55% it's a balanced market.  In a balanced market sellers must price close to the comparative sales.  In a balanced market buyers can look at a home more than once, make a deliberate decision about making an offer and how much they would like to offer.  The higher the sales ratio goes the more in favor of sellers it is and conversely the lower the number favors buyers.  Know the number where you are buying or selling and you will be able to manage your expectations accordingly.

Tip #2 Sellers
 The chart above represents a compilation of all Pierce County Sales in the month of March.  It shows us that 63% of the homes sold, did so in an average of 7 days and for 100.03% of their asking price.  Because of the high demand on housing, if your home is properly prepared for market, priced correctly, and marketed correctly,  it will be sold.  Longer market times right now are not providing more value to sellers but actually less.  So know your numbers and be honest with yourself and how your house fits in.  A great broker can take you to market and ventilate it to the entire spectrum of buyers, but even a great broker can't change the market.
 Tip#3 Buyers
 Be prepared and work with a winning broker.  If you're getting a mortgage, have it fully underwritten not just "pre-qualified".  In order to do this you will have to turn in all of the documentations the lender asks for in addition to making application.  As discussed above know your numbers and be prepared to proceed accordingly.  In all likelihood if you're shopping in a lower price range you will have lots of company and need to move quickly and decisively to snag the right house. Ask your broker how many multiple offer situations they've encountered and what they recommend for drafting the winning bid.  Raising your offer price is one way of course, but there are other strategies that can improve your odds.  You'll want to commit to your buyer's agent so they are available for you, just make sure you commit to one that can win!