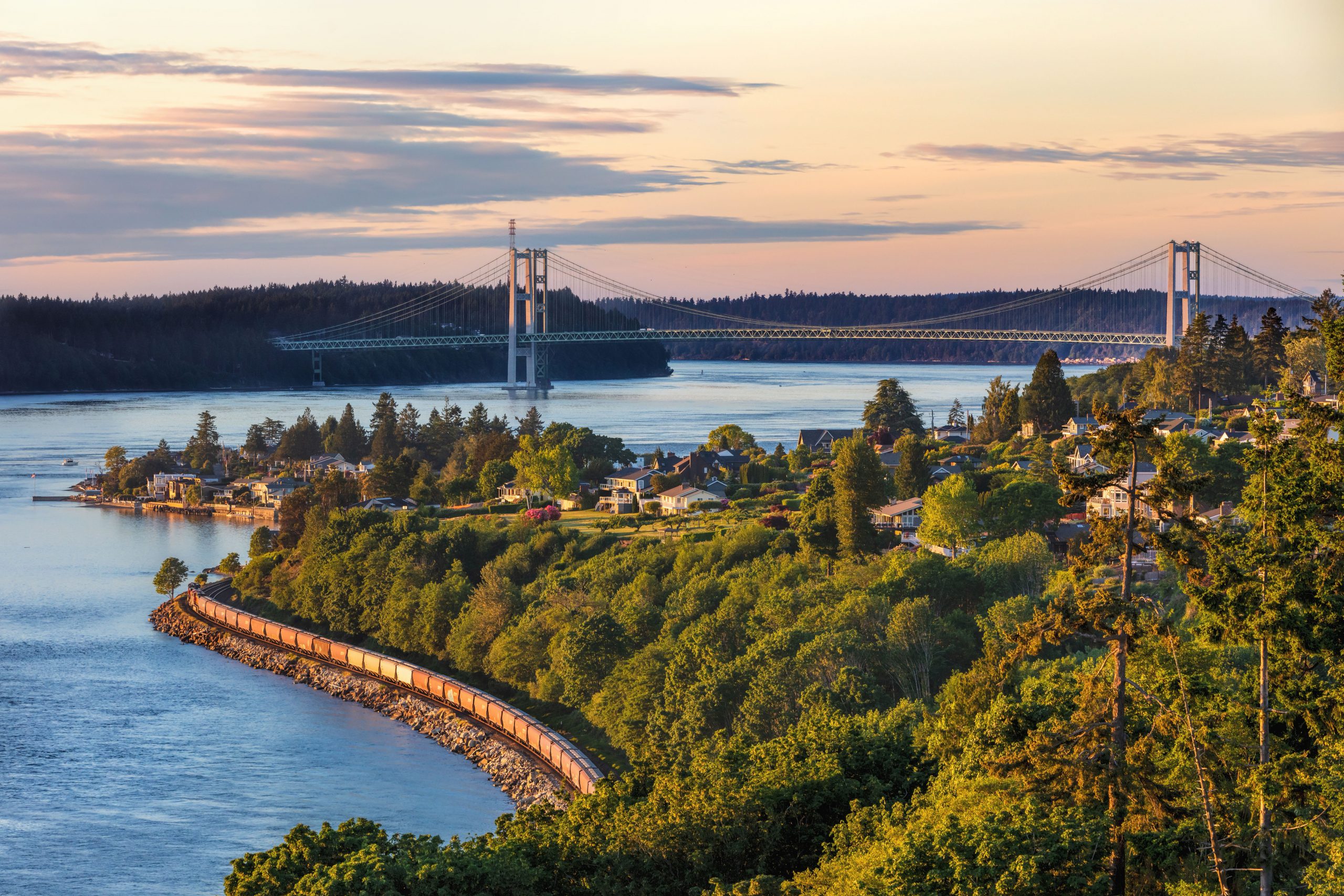 One year ago, as we entered 2022 the market seemed to be stuck on a track that was tiresome for buyers and brokers alike. The year began with only 430 homes & condos available throughout Pierce County. This situation, with not enough inventory, was not new. Buyers had to scramble after new listings quickly and offers for homes were streamlined with quick closings, attractive terms often above asking price and frequently with no inspections. The chance of selling a home in January of 2022 was 314%. In the simplest of terms, there were 31 buyers for every seller. This market inversion, with more buyers than sellers, had existed in Pierce County for several years. Many lamented for a more "balanced" market and we all knew the "seller's market" of the ages was not sustainable.
We can now say that 2022 was a hangover year. A time to begin paying for the binging of years past, especially 2021.
The red-hot market that existed at the beginning of 2022 was the result of many factors that finally boiled over after a record setting 2021. Looking back, the foundation for that robust market came from a Federal Banking Policy which started clear back in 2010. The Federal Reserve set their inter banking interest rate at zero which in turn allowed the banks participating in the home mortgage market to offer lower and lower interest rates for home purchases. That policy was intended to be a short-term fix to get the economy going after the housing crises, it was never intended to be in place for over a decade.
Now add a pandemic, pump $3 trillion new dollars into the economy, AND the overnight creation of a new "work from home culture." Where and how people lived changed in record time, creating a tidal shift in housing everywhere including Pierce County. More importantly, the early 2022 economy was racing at unprecedented speed, and was starting to influence inflation numbers. Most economists in early 2022 believed the high inflation rate was going to be "transitory." The economy just needed to digest all those new dollars, and everything would be back to business as usual. Unfortunately, the leaders at the Federal Bank believed those economists and waited to raise their rates. This has proved to be a big mistake. While they waited to respond to the inflation, the train was running away.
So now the Fed is fighting a bigger inflation monster than expected and they need to take measures far more aggressive than anyone hoped for. The way the Federal reserve fights inflation is by killing demand. Raising interest rates pours cold water on the economy, making it harder for businesses to expand, aka fewer jobs, and more expensive to buy things – like a new house.
Which leads me to where I started. A balanced market is what many yearned for when we were so out of whack with 31 buyers for every seller. Well, we now have a balanced market, but it tastes much more bitter than the sweet balance we imagined. The process of balancing the market has come from higher interest rates shocking the demand side of the buyer/seller equation. Better put, the demand is still there but many have been either priced out or simply refuse to participate and they are waiting to understand what happens next.
How did Pierce County real estate change from 2021 to 2022?
On June 27, 2022, Pierce County went from an inverted market with more Buyers than Sellers and began transitioning into a more traditional balanced market. Beginning the year with a 314% Chance of Selling, things stayed hot until the first Fed raise in March and then embarked on a steady regression to the norm. As the year winds up, we are seeing a 46% Chance of Selling, tipping in favor of buyers. Put another way, at the beginning of the year there was in theory an average of 31 buyers for every seller and now there is a ratio of only 0.5 buyers for every seller.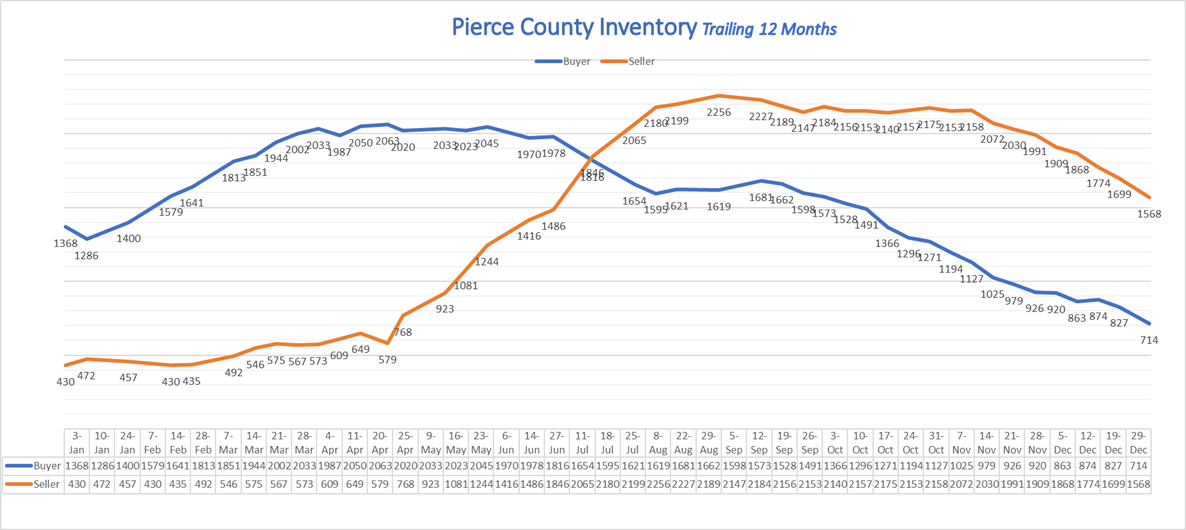 What happened with inventory + appreciation in 2022 in Pierce County?
Inventory was desperately low in Pierce County the last few years rarely reaching over 1,000 total units for sale at any given time, and had not been over 2,000 units since late August 2019. For 2022 we started out with that trend in place and began the year with only 430 available properties. That all changed as the Federal Reserve responded to inflation by raising the benchmark interest rate, slowly at first with a .25 increase in March, then becoming increasingly aggressive in subsequent intervals. With 7 hikes in 2022, by December the benchmark was at the highest level in 15 years. Further, it had not increased at such a fast pace in 50 years.
The purpose of the Fed raising rates is to fight inflation, the effect is it makes it more expensive to borrow money and therefore slows down the economy. It is doing just that with the housing market. Mortgage interest rates responded to the Fed hikes in 2022 and the days of the 3% mortgage are gone. The 30 year mortgage rate has settled for now within the 30 year average range at 6.42 as of 12/29/22.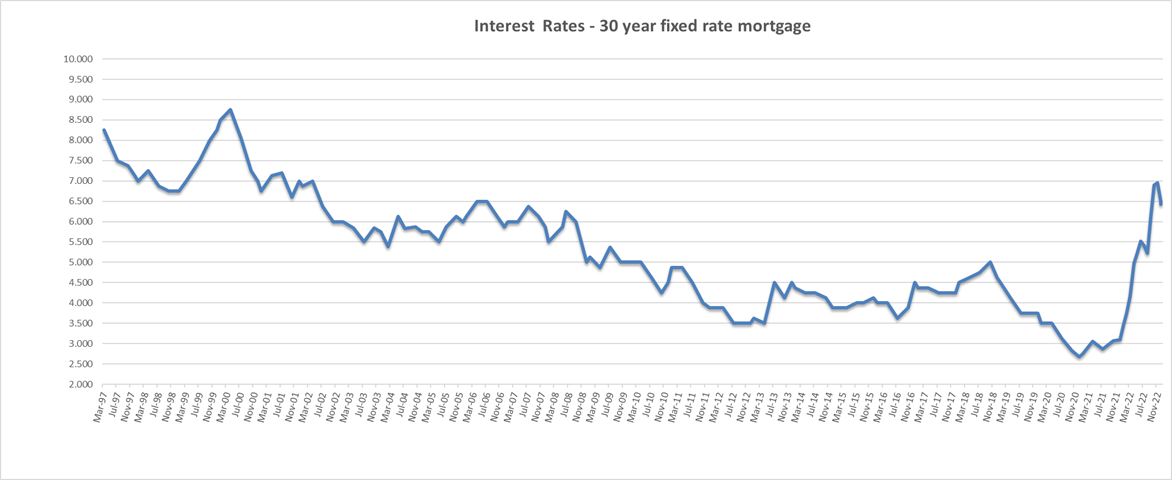 With restricted demand, Pierce County's steep price appreciation experienced in recent years flattened out in 2022, but not before it peaked in May at $575,000. The year began with a median price of $515,000 and through November was at $517,300 good for a sub 1% gain. Even with that correction Pierce median price is still up 57% over the last 4 years.
The transaction totals for Pierce County took a hit in 2022 coming in at 13,620 homes sold. This represents 82% of the previous 4 year average and a 22% decline from 2021.

What are the big real estate rumors right now, and is there any truth to them?
With so much change in such a short period of time, 6 months really, we've had a flattening of appreciation, an unprecedented increase in mortgage rates, and the buyer seller ratios flipping the table. It is easy to understand why some are shouting the "bubble is bursting." There are several key reasons why this emotional response is not supported by data, and we are not facing a systemic drop in values. First, the demand for housing has not gone away. Household formation with the Millennial generation coming of age has never been higher. It is worth mentioning, this large segment of the population is larger than the Baby Boom population and currently some 4 million of them are turning 30 each year.
Second, while the final work from home policies are still congealing it is clear we will never go back to the 5 day 8 hour cubicle shifts in high-rises in downtown cores. People will want housing that allows them to work/study/learn and live in comfort which usually means a larger home with some space for this functionality. Many of those "part-time commute" jobs are in King County, while nearby Pierce County offers the same houses for less money. At the time of this writing PC's median price was 32% less than King's. This bodes well for Pierce values.
Another rumor crushing stat is the equity held by homeowners is at an all time high. Overall mortgage debt has remained steady over recent years while values have appreciated substantially. This shows in mortgage default rates well under 5% compared to rates of up to 40% during the financial crisis.
What do you anticipate for Pierce County real estate in 2023?
Yes, we will have a recession, but it will be mild and nothing compared to the 2008-2009 financial crisis. Economists, including Windermere's Mathew Gardner predict mortgage interest rates will ultimately settle in the mid 5% range. That may happen by late spring, early summer, or take until as long as early 2024. In the meantime, competitive mortgage companies such as Penrith are offering loan packages that buy down the buyer's rate for the first few years of the loan, and follow up with a fee-free refinance when the time is right.
Transaction totals for 2023 should come in around 15,000 units, still below the 5 year average but a 10% increase over 2022.
Is Q1 a good time to buy or sell?
The advantage to buyers in Q1 of 2023 is they are going to be able to buy at 2021 prices and enjoy less competition at the bargaining table than we've seen in recent years. Whether it is a good time to buy or sell is always a very personal question that depends on personal circumstances. That said, the future of residential real estate remains very strong for the long-term and if one's plans include living here for the next 5 or so years, the financial reward promises to be good.
Overall, at least in the first half of the year, 2023 will follow the patterns set in motion during the last half of 2022. This means continued pressure from rising mortgage interest rates will restrict demand and create spot corrections of prices but no systemic decline. All eyes should be on the inflation numbers as that will dictate the continued Fed response. The sooner inflation is under control the sooner we can look for interest rates to stabilize for a few months. After that, the process of balancing the economy will continue, and we can start to look for rates to come down settling in the mid 5% range for the long term. Whether that happens in late 2023 or early 2024 is uncertain but the changes from here on out should come at us more slowly than they did in 2022 and that should translate to a calmer market that we can all enjoy.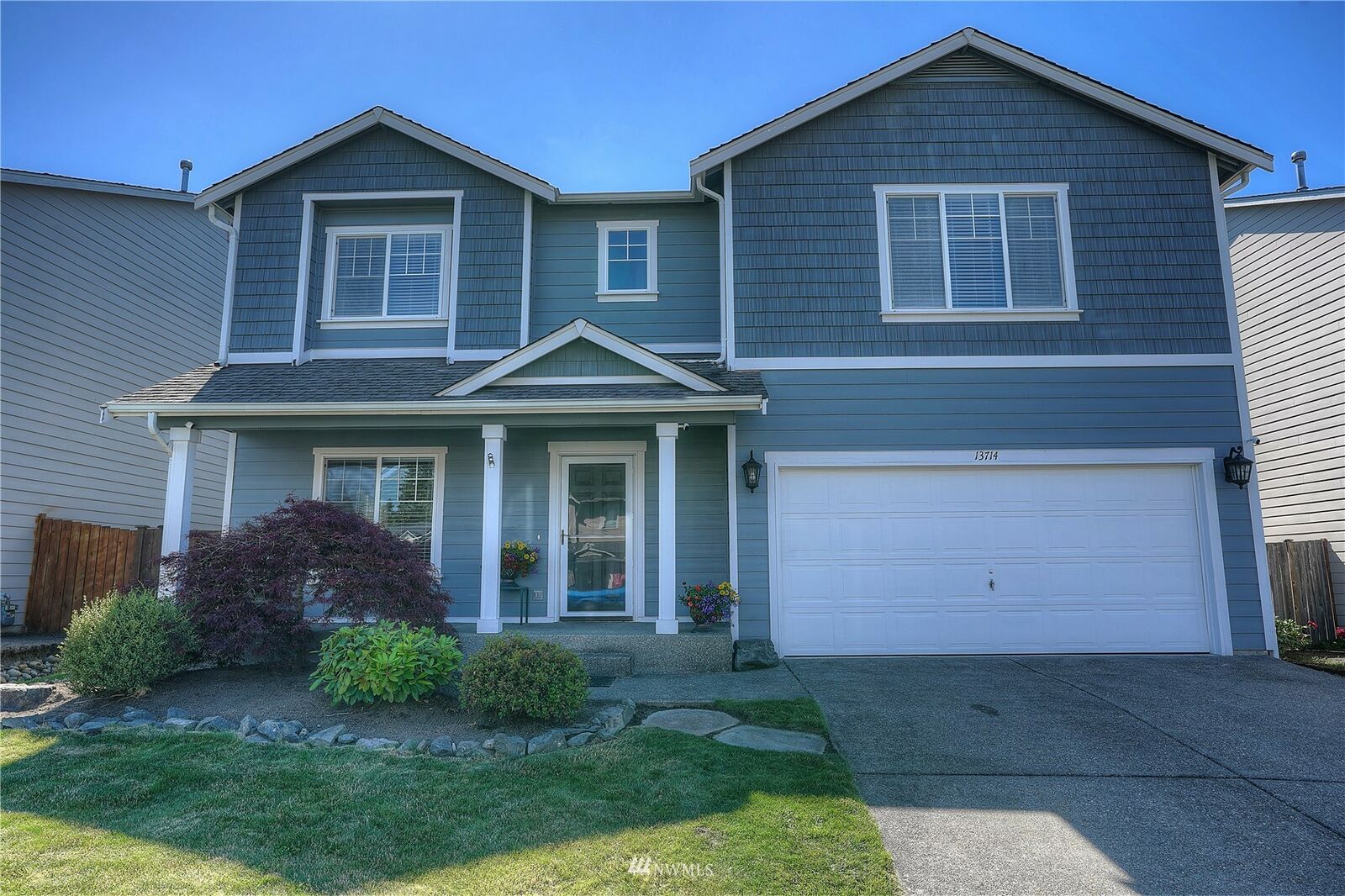 Easy living, timeless style, and comfortable spaces at every turn await with this beautifully maintained and move-in ready home! A generous 2,647-square-foot layout provides an abundance of space that's ready to evolve as your wants and needs change in the years to come. 3 bedrooms, 1 full bath, one ¾ bath, and 1 half bath are all in the dynamic mix, and this is only the beginning. A backyard retreat with a peaceful, picturesque setting also awaits! Located at 13714 116th Avenue Ct E Puyallup, WA 98374 and in an incredibly convenient South Hill location close to a huge variety of city amenities, this Puyallup home-sweet-home is listed for $639,000.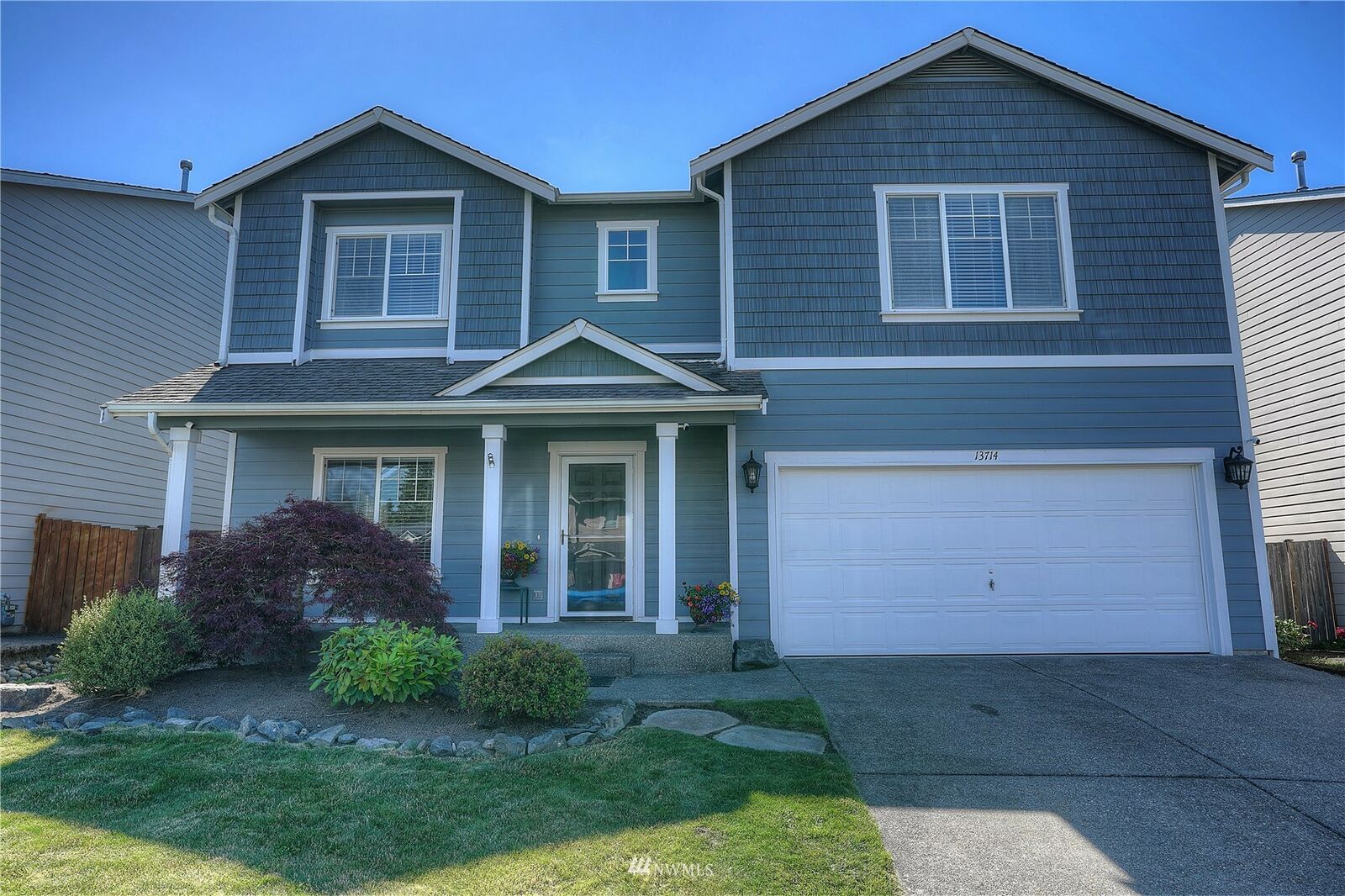 Take a moment to learn explore our 5 favorite things about this residence: 
1. Excellent location in Puyallup's South Hill area. 
At 13714 116th Avenue Ct E Puyallup, WA 98374, you're in the heart of the South Hill area, meaning that you're merely minutes to schools, parks, grocery stores, shopping, restaurants, and commuting options. For starters, this home is only 1 mile (or a 3-minute drive) to Meridian Ave, while providing access to everything you might need! Places like Safeway, JOANN Fabrics & Crafts, Walgreens, the Regal Longston Place movie theater, and many other amenities are close to home along Meridian. However, you don't have to travel far to reach even more—the South Hill Mall and all of its surrounding conveniences is just to the north, and Sunrise Village and its many offerings is to the south. Those who commute are also sure to appreciate being just 10 minutes to Highway 512.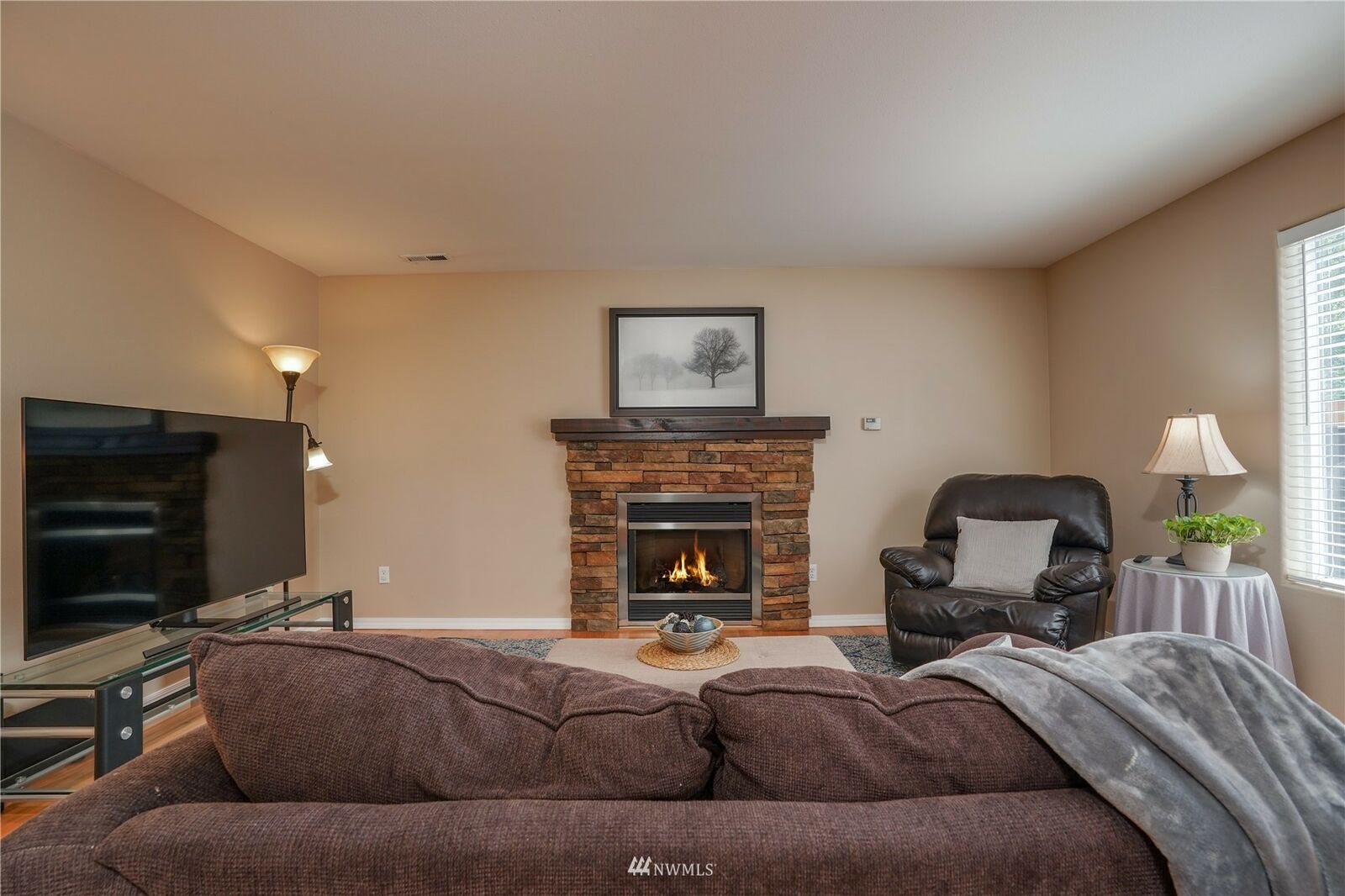 2. Warm and welcoming living spaces. 
Just in through the front door, an expansive living room features an inviting scene to arrive home to. Gleaming hardwoods flow into the rest of the main level, and here you'll find what is likely to become the heart of the home. In this living space, a classic stone-accented fireplace anchors the haven, and the layout effortlessly unfolds into the open kitchen and dining area. Great flow ensures it's easy to spend quality time with loved ones, and entertaining is also a breeze!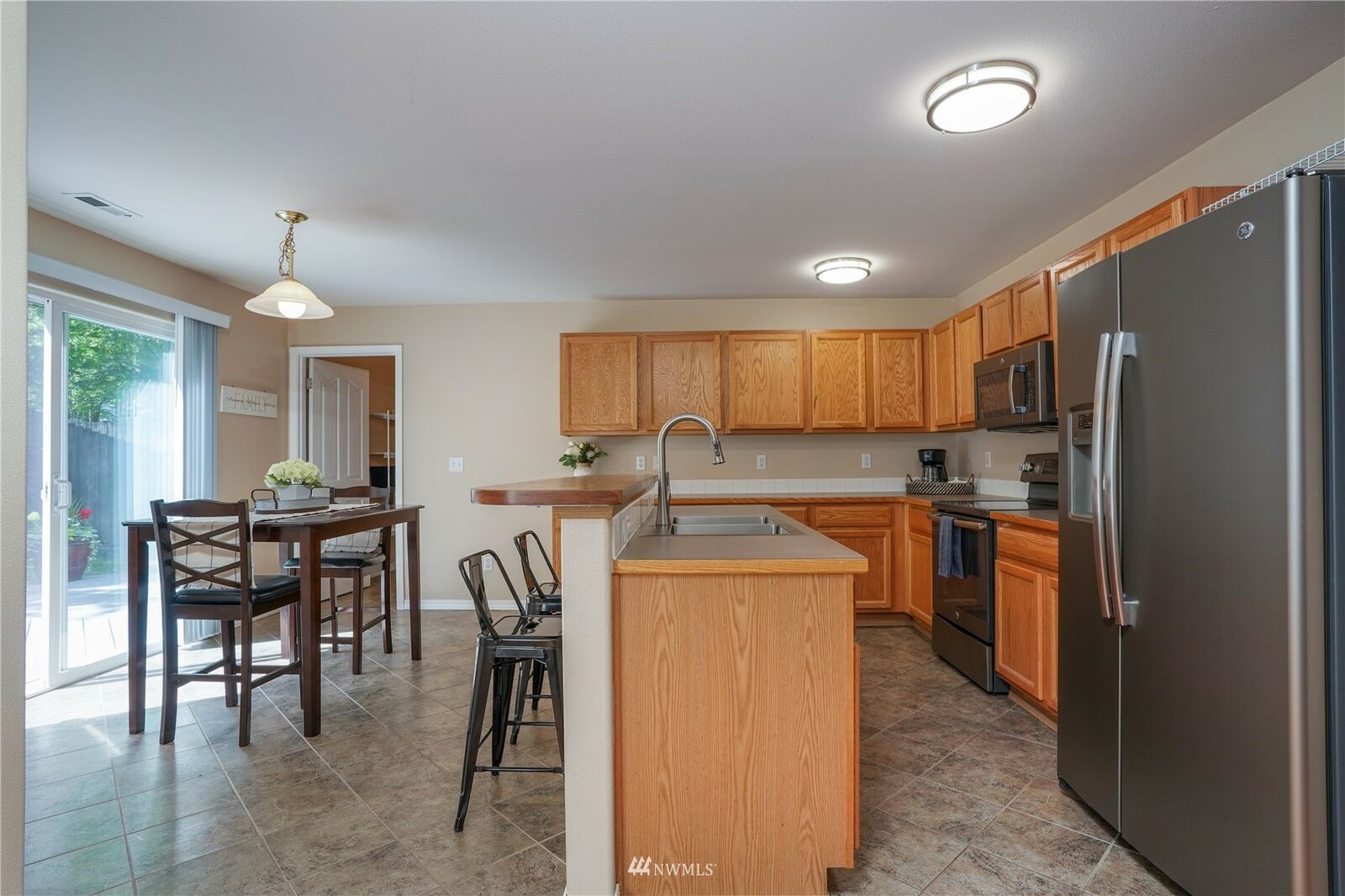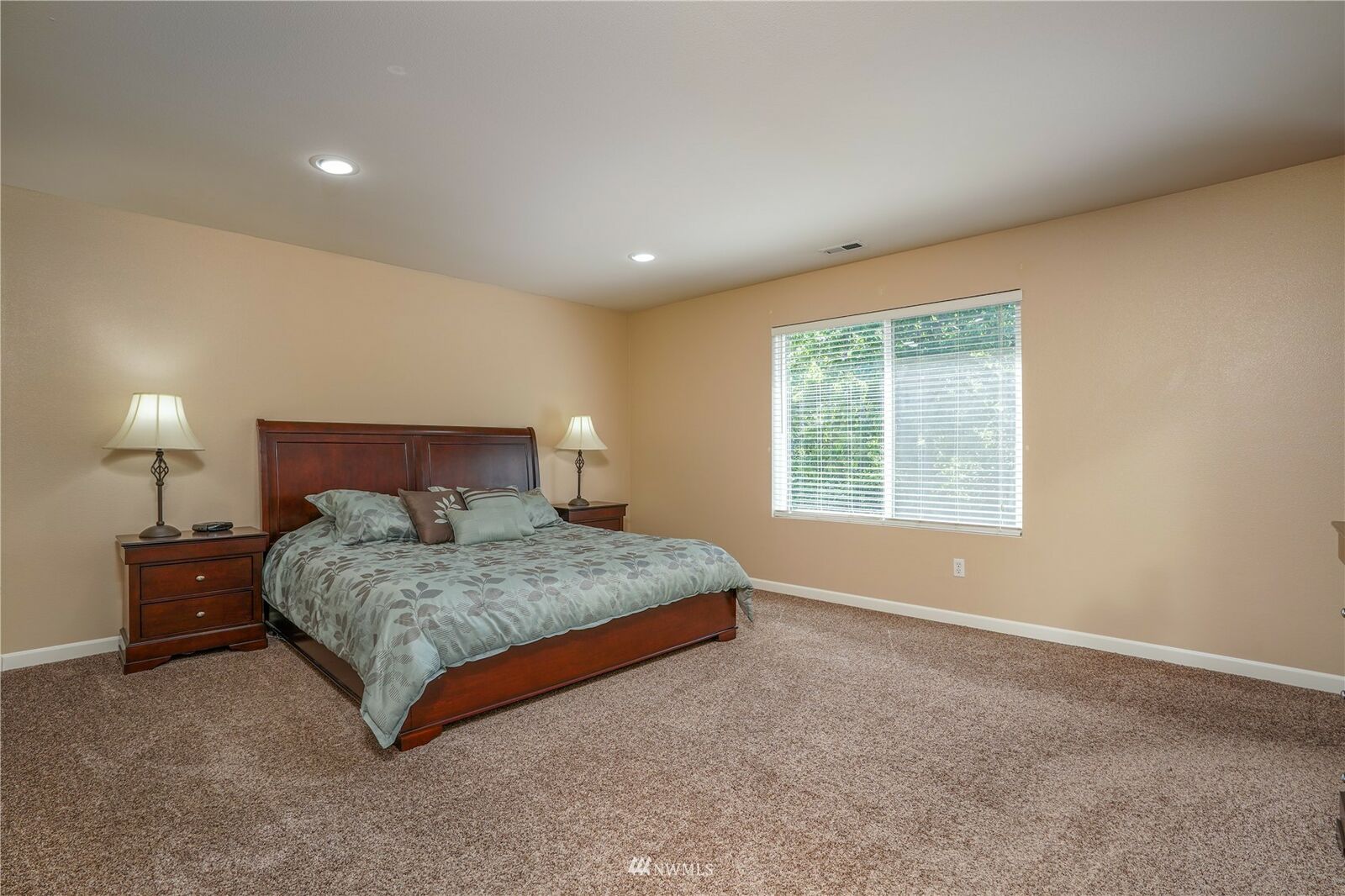 3. Huge primary suite offers a private getaway to call your own. 
This home's primary suite is absolutely massive, which means you'll find a ton of opportunity here! Of course, you'll find ample room for a king-sized bed and organizational furniture. But there's also the perfect area for a home office or sitting area alongside a fireplace. A walk-in closet and spacious ensuite bath are also in the mix.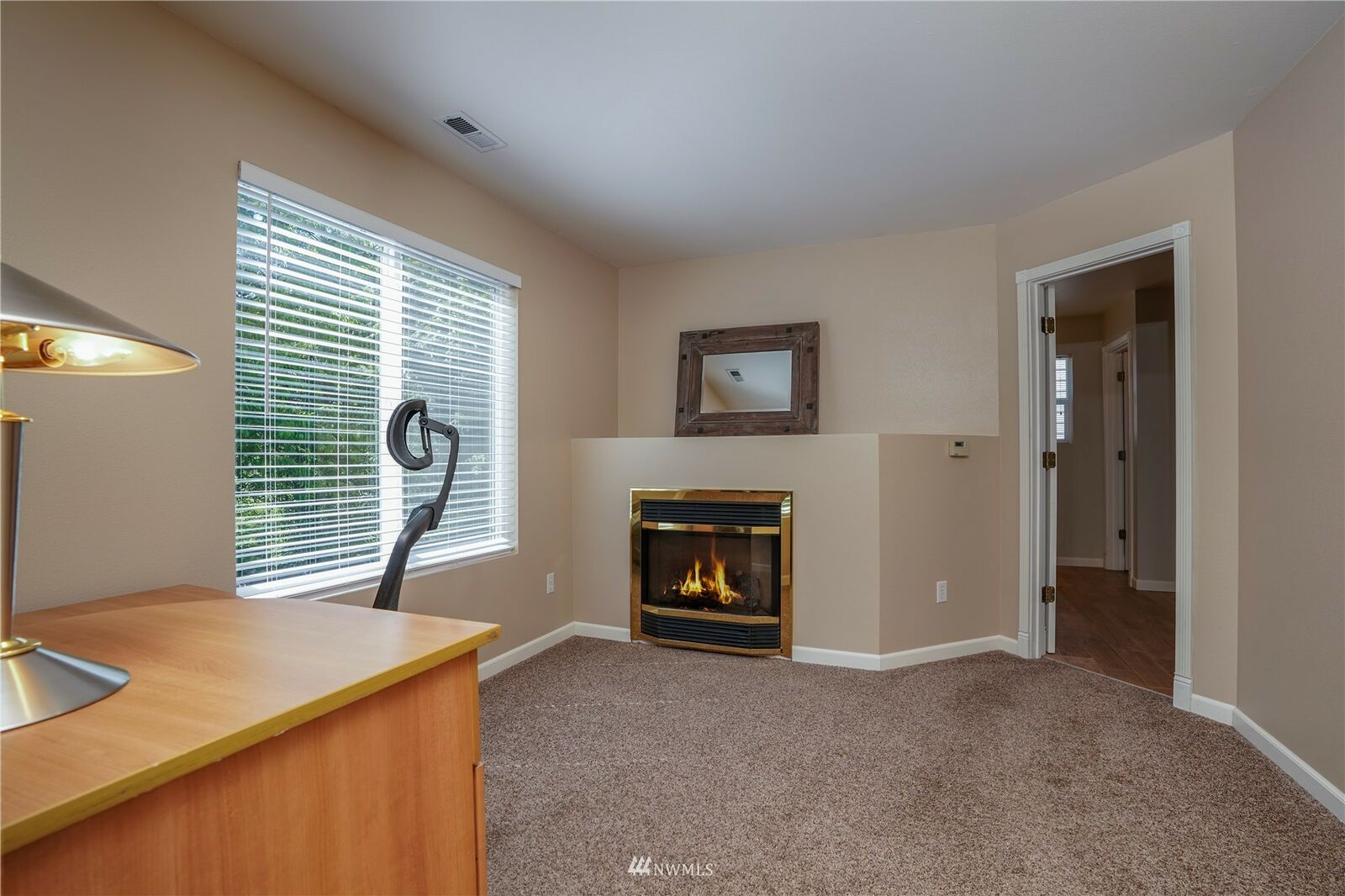 4. Tons of flexibility in the garage, bonus spaces, loft areas… and more! 
This home not only includes a total of 3 bedrooms, but a sprawling bonus loft and sitting area offer even more square footage to curate. The huge garage is also especially notable—there's room for parking, projects (set up your dream work bench!), and storage galore.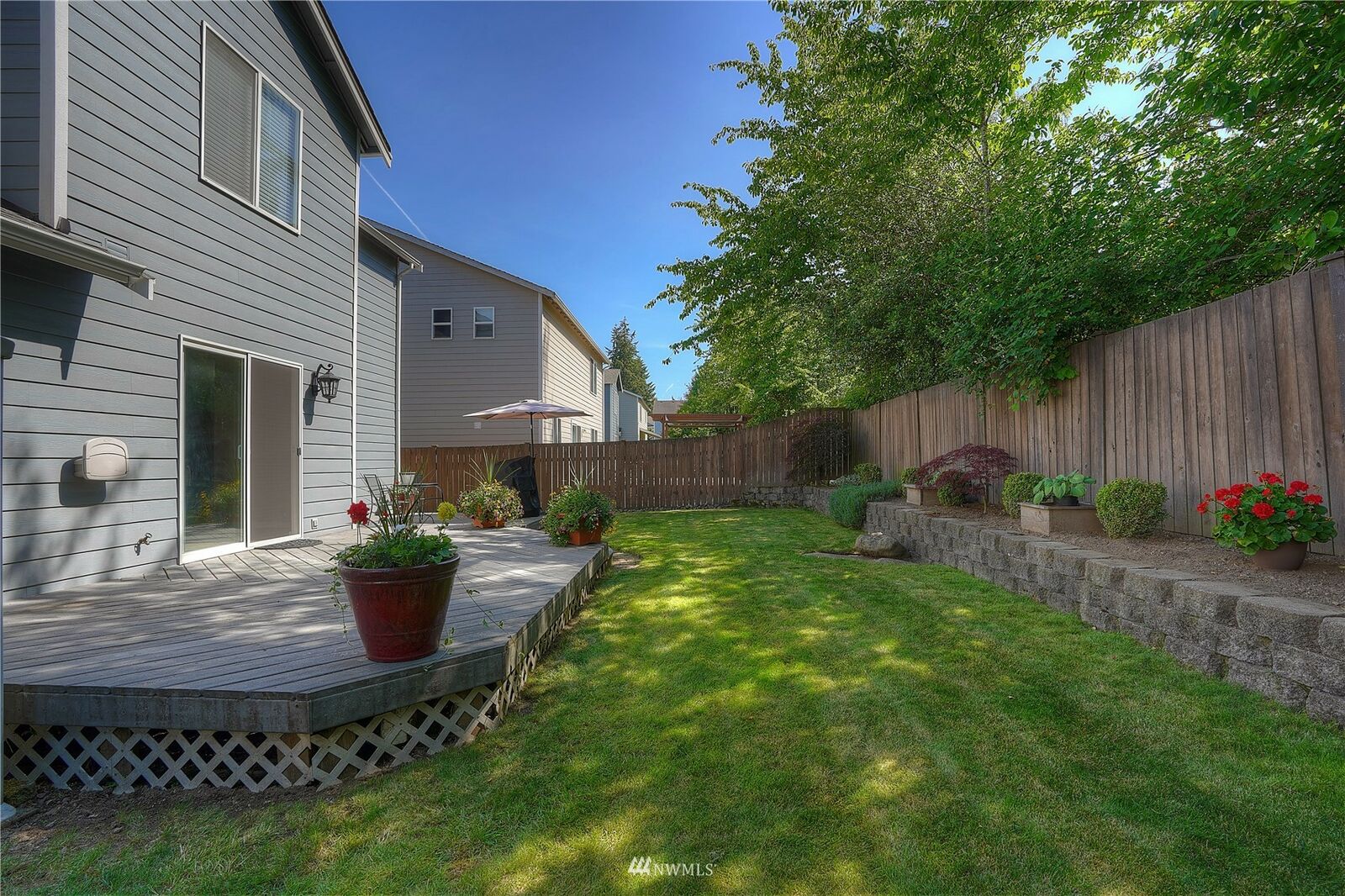 5. Lovely backyard promises a sense of privacy. 
From the kitchen and dining area, sliding doors open up right onto the well-maintained deck, and here, your outdoor oasis awaits! Grill up dinner, enjoy al fresco dining, relax in the shade while pets and little ones play, or spend laid-back afternoons gardening. Neat landscaping is beautiful as is, but you could also put your green thumb to work adding your favorite shrubs, plants, and flowers into the mix as well. We also love the trees that lend a sense of privacy, a view, and shade on those hot summer days! 
Interested in learning more? Click here to view the full listing! Contact REALTOR® Colton Robinson online here or give him a call/text at (253) 720-8019 for more info. You can also reach out to REALTOR® Michael Robinson online here or give him a call/text at (253) 219-1932 for more info.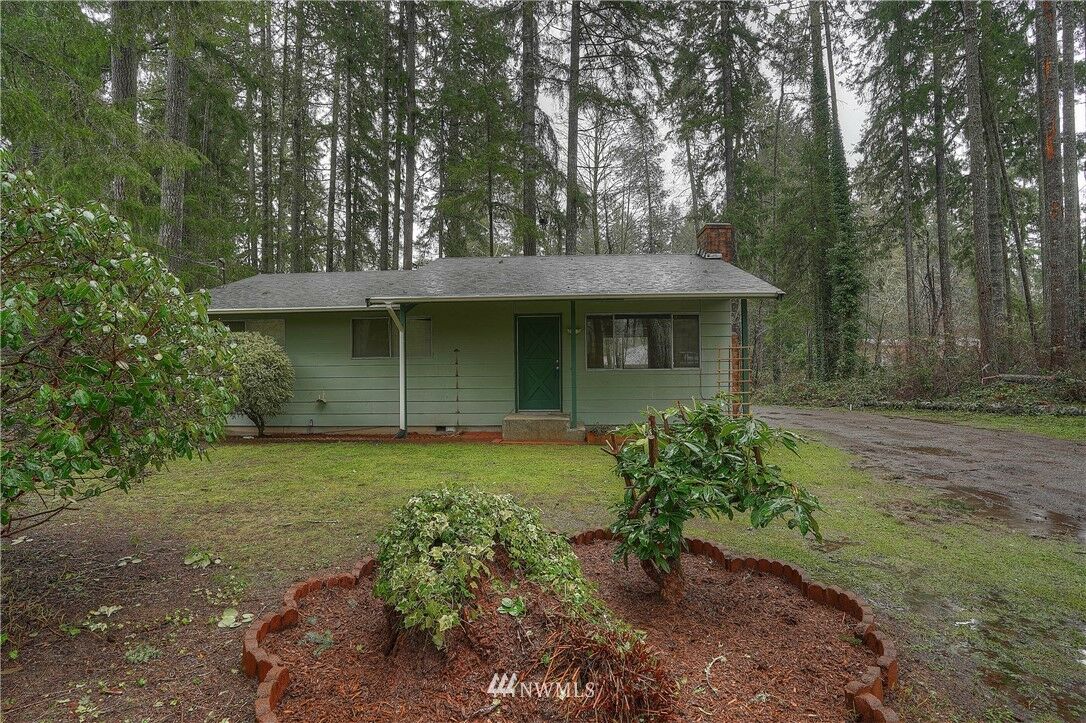 Surrounded by Pacific Northwest beauty and nestled on 0.38 acres in a peaceful, secluded setting, this 1,000-square-foot home has been thoughtfully updated and is ready for you to make it your own! An inviting floor plan offers a canvas that awaits your unique vision of home-sweet-home to be brought to life, and the same is true for this property's expansive outdoor setting—the possibilities are limitless! Located at 13819 Sandy Point East NW Gig Harbor, WA 98329 in a gated community, this 3-bedroom, 1-bath home is listed for $350,000.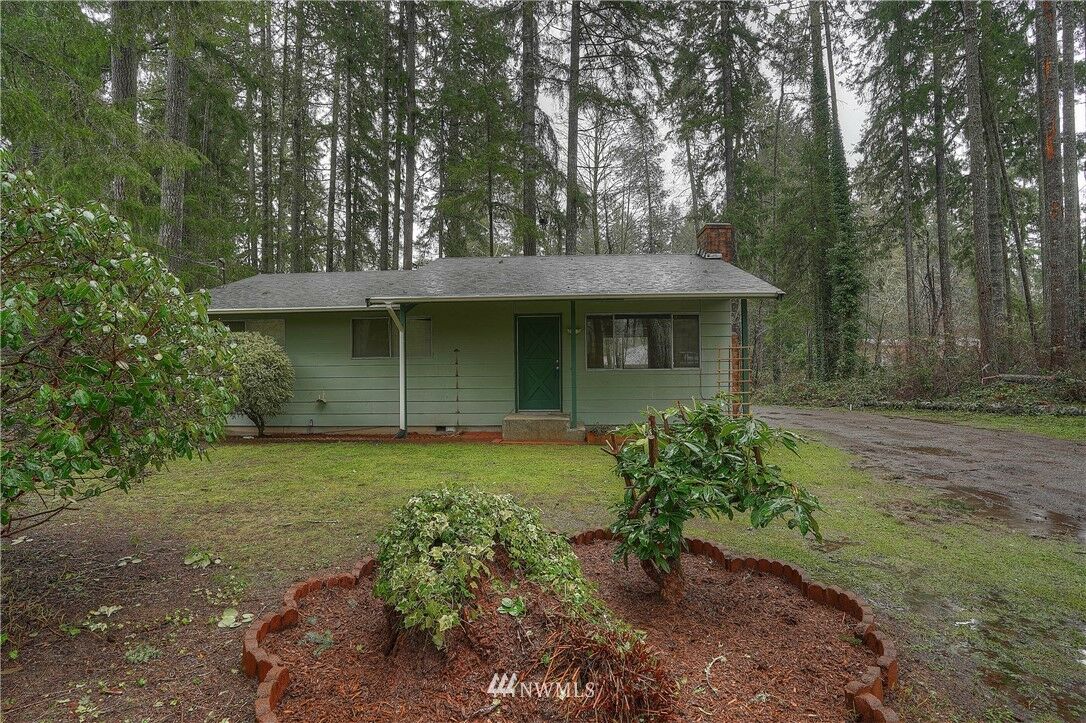 Framed by mature landscaping and tall emerald trees, this lovely home offers a quiet retreat that's a joy to arrive home to time and time again. Whether you're cozying up inside gathered with loved ones on a chilly winter's night, or you're having fun outside on a warm summer's day, this home is ready for years and years of memory making!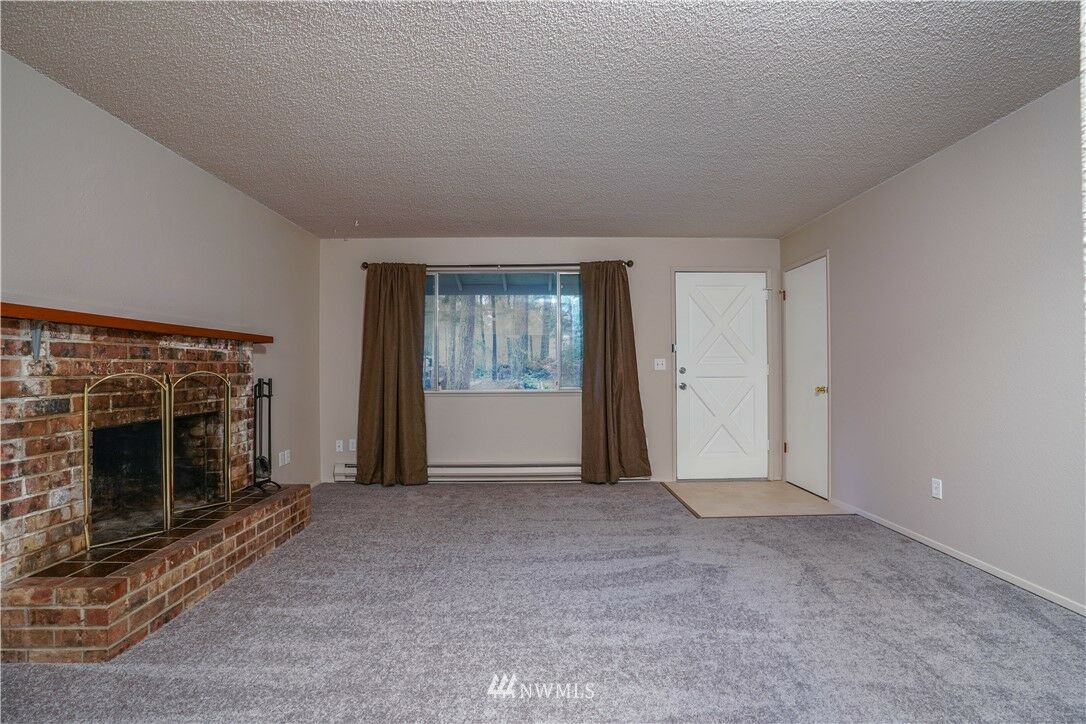 Just in through the front door, the welcoming living room immediately invites you in to rest and relax. A classic brick-accented fireplace anchors the scene, and you'll find new carpet (which has been installed throughout the home) and fresh interior paint, giving this home a fresh "like new" feel. After you move in, put your interior designer's hat on, and bring each space to life with your own unique taste and style!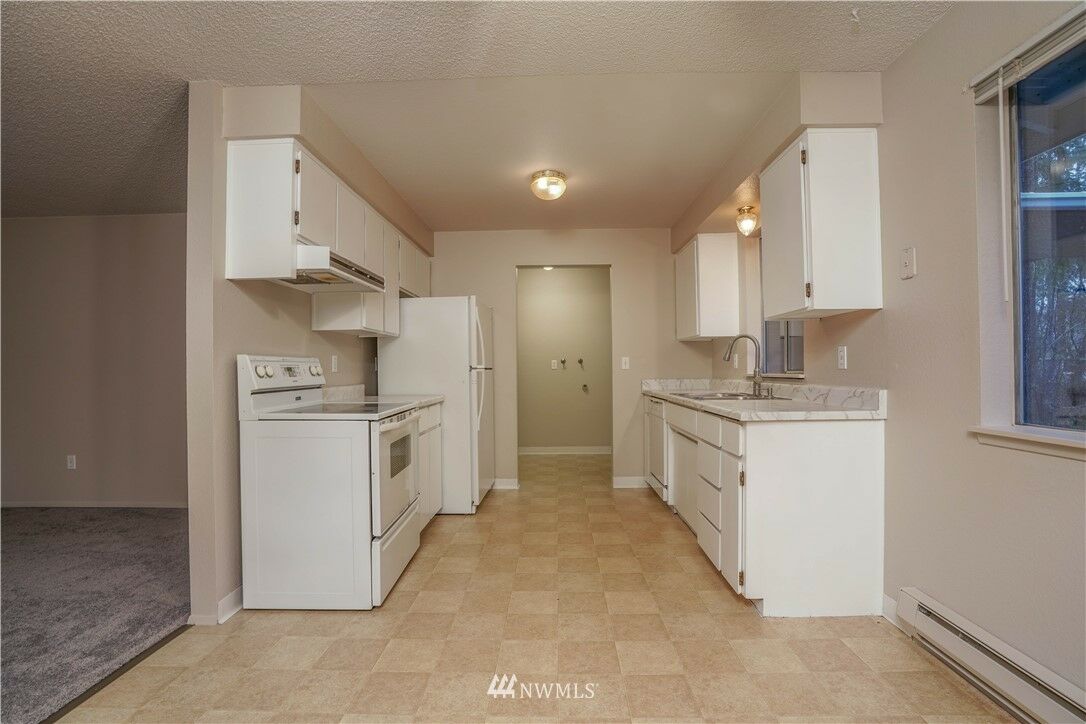 From the living room, the layout seamlessly flows into the adjacent dining area and kitchen. The dining area is ready for gatherings with loved ones, and you have more than enough space for everyone! The kitchen boasts a smart design with a timelessly pristine white palette, and it's even been recently updated with new countertops and fresh cabinet paint. Enjoy having an abundance of storage thanks to generous cabinets, and plenty of meal prep space thanks to spacious counters.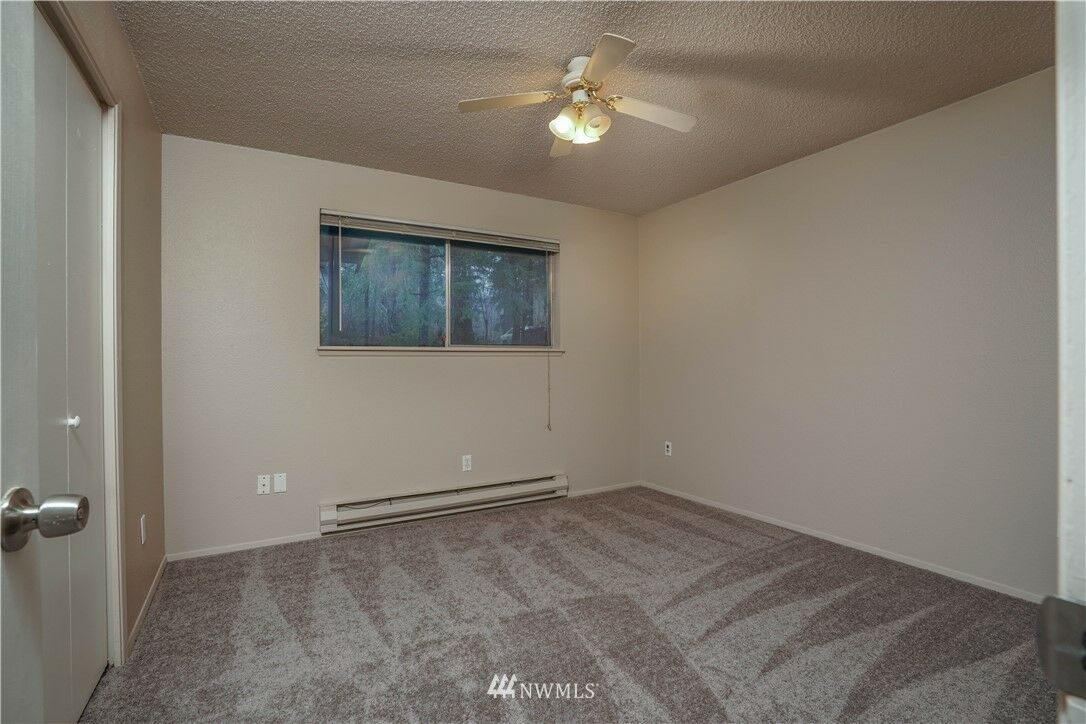 This home's 3 bedrooms also feature new carpet, and promise versatility as well. If you have an extra room, you can finally create the home office, home gym, or hobby room that you've been dreaming about.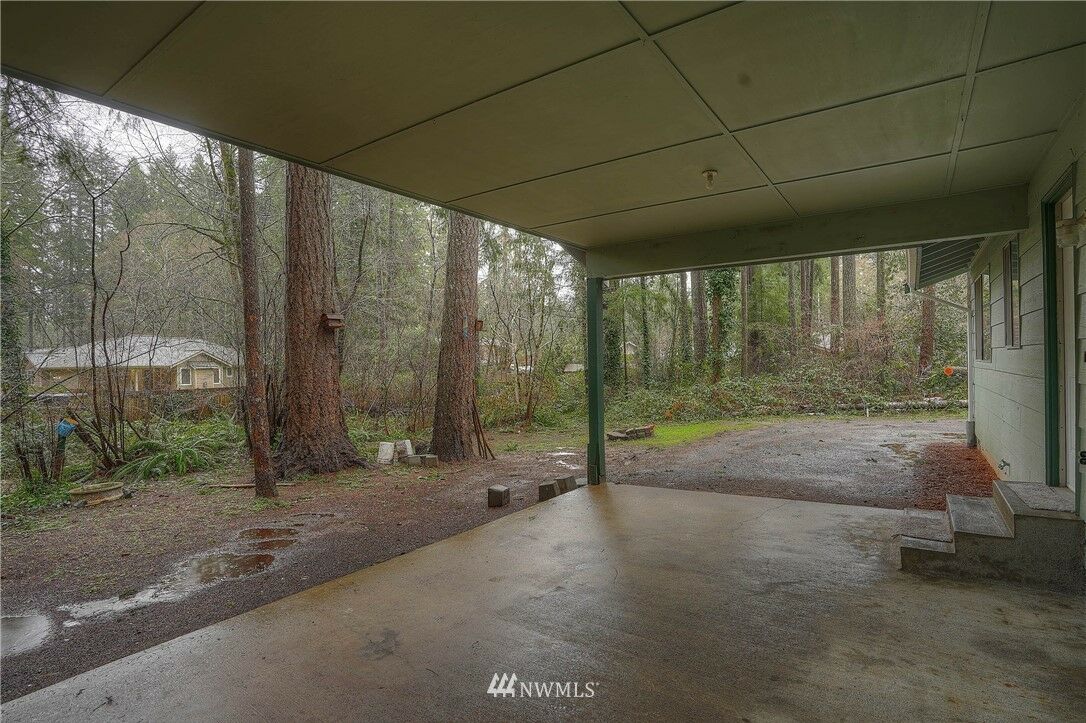 Even more fabulous flexibility awaits with this home's outdoor offerings. A huge covered patio provides the ideal hangout, so you can take in the fresh air with a hot cup of coffee even on rainy Washington mornings. In the summer, it's time to bring out the barbecue and invite all of your friends over to hang out, and you can even spruce up the fire pit area to roast marshmallows around while the sun goes down on another great summer day. There's also plenty of opportunity for gardening, designing more landscaping, building a deck or expanding your patio space, and so much more—the sky's the limit with a property like this!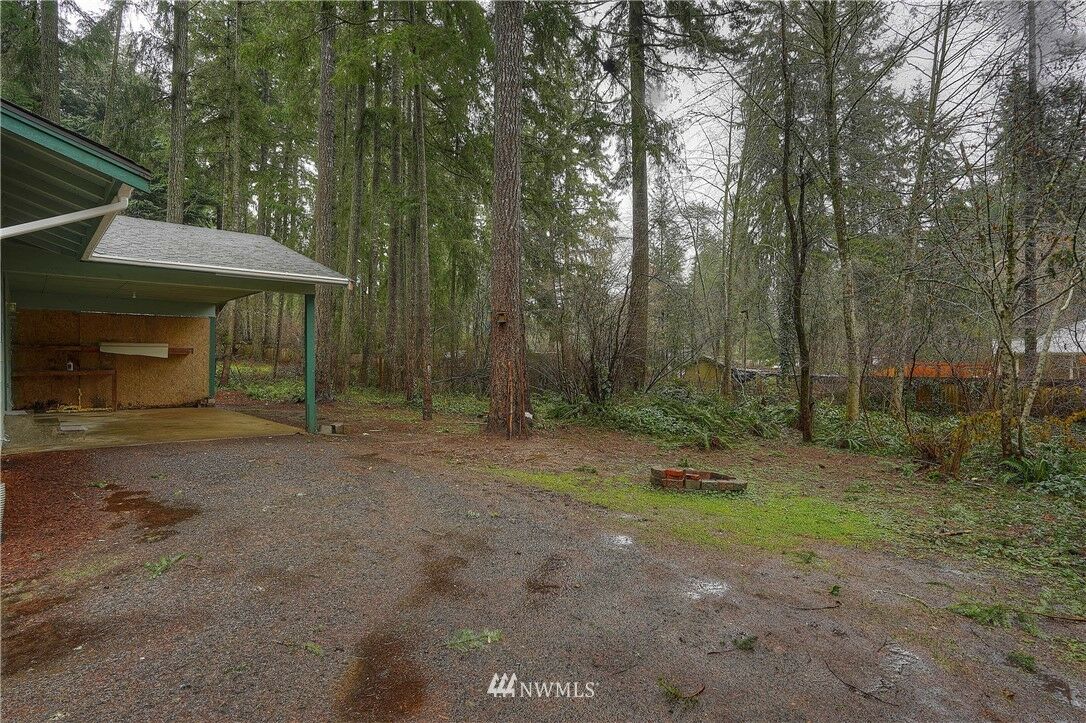 Living in Gig Harbor 
At 13819 Sandy Point East NW Gig Harbor, WA 98329, you get to live in a community that feels like it's nestled in the woods and miles and miles away from the city, yet you're just 10-20 minutes from amenities! For starters, places like Food Market at Key Center, Key Center Pierce County Library, eateries and more are just a short 10-minute drive away. When you'd like more variety, you're just 20 minutes to Borgen Boulevard in Gig Harbor North, where places like Costco, Target, The Home Depot, Albertsons, Walgreens, Office Depot, and many other shops, eateries, etc. await. 
Interested in learning more? Click here to view the full listing!
For more information, contact REALTOR® Austin Wagner online here or give him a call/text at (509) 654-5142. You can also contact REALTOR® Colton Robinson online here or give him a call/text at (253) 720-8019.
601 N Stadium Way Tacoma WA
The Essentials:
2,547 Sq. Ft.
5,100 Sq. Ft. Lot
Offered for: $1,450,000
Complete Luxury Remodel!
Click here to view the listing!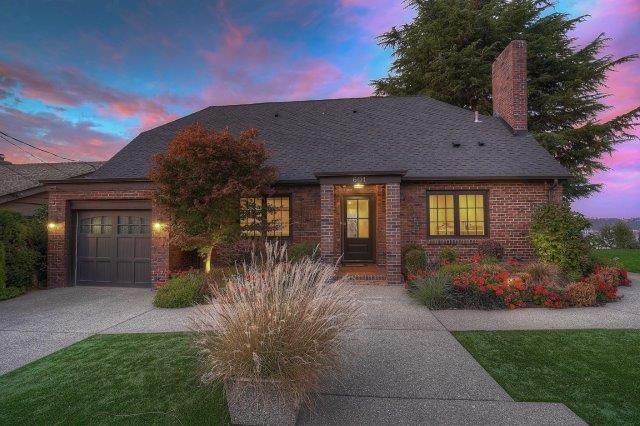 Rare one of a kind listing you don't want to miss! This amazing Tudor Style Cottage just oozes with quality and understated class!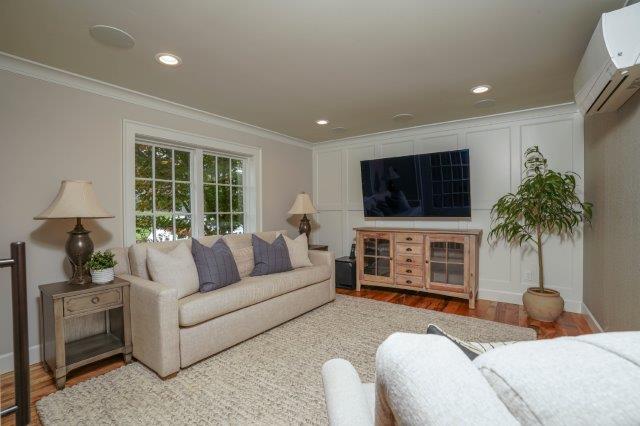 Only the best high-end materials were used in this gorgeous remodel you just have to see to appreciate! This is a lovely den perfect for a quiet conversation or watching your favorite shows.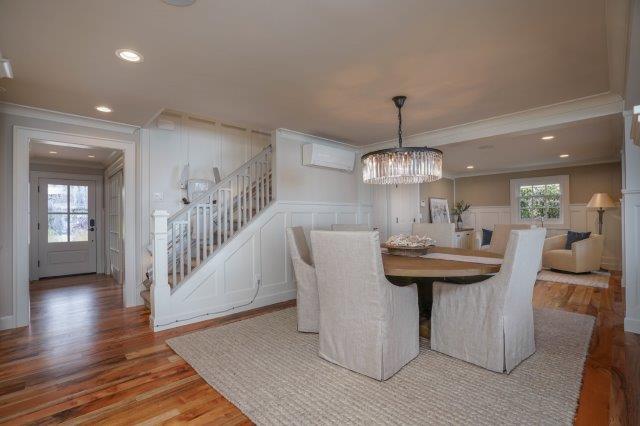 One of the most incredible features of this home is that all of the hardwoods are myrtlewood! Renowned for its beauty, myrtlewood has been a favorite of Oregon coast woodworkers for generations. It is the highest priced of all Western hardwoods and is commonly used to construct the backs and sides of acoustic guitars. The wood is very hard and fine, and is also made into bowls, spoons, and other small items.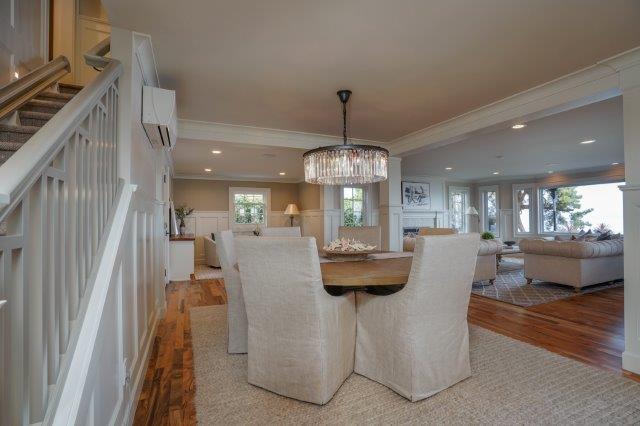 Walk in to this great open concept with high class features you'll love… like elegant lighting fixtures, ample recessed lighting and an abundance of windows that allow the natural light to filter in all year round.
This kitchen is simply stunning and any chef will feel inspired here! It features gorgeous custom cabinetry with soft close doors, solid counters, a beautiful island with prep sink, double ovens, a bi-fold fridge and pantry.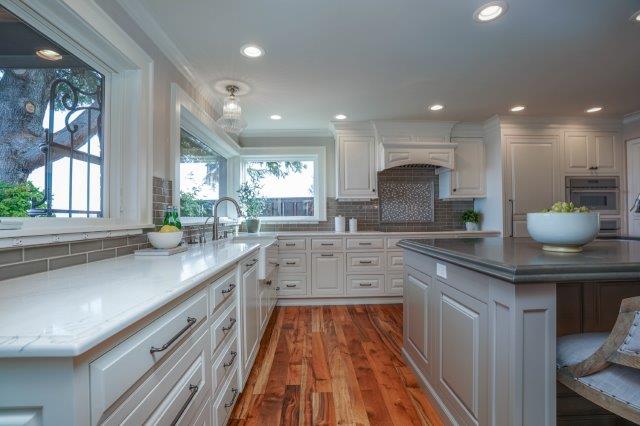 Enjoy the view of the sound from multiple windows in this kitchen that did not spare any expense in quality!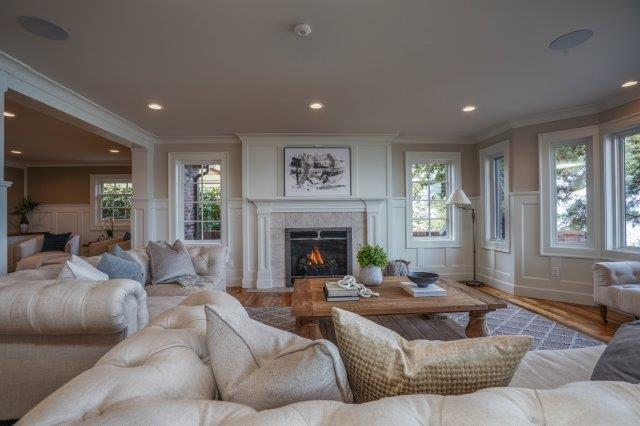 Gather, relax and take in the views in this super cozy living room with a gas fireplace to warm you on the chilly nights in western Washington. Enjoy quality millwork throughout each room too that adds that extra something special.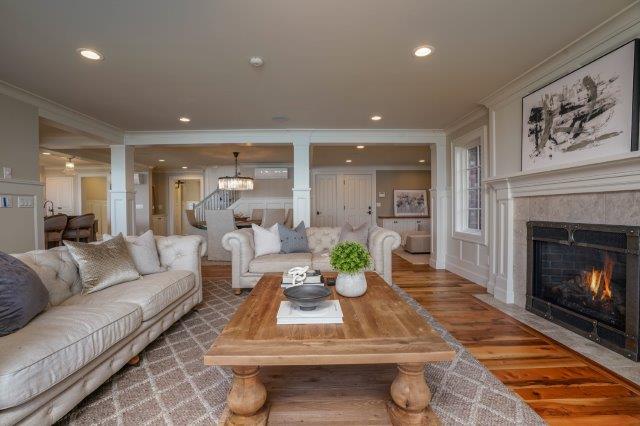 This home also features a tankless water heater and in addition to the gas fireplace there are 4 mini-splits to keep you comfortable all year round, no matter the season.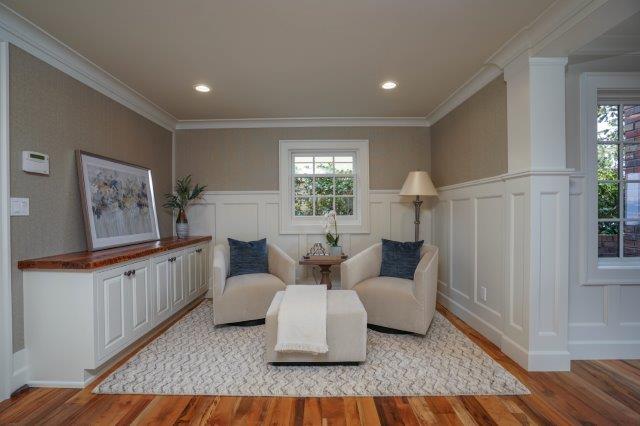 Just off the living room is another really cozy and versatile space that could make for a great place to read a book or enjoy some quiet conversation with a friend, too.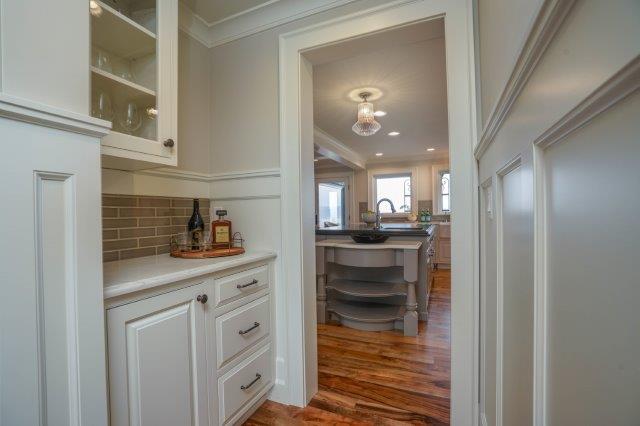 While strolling on the main floor you'll also find a terrific butler's pantry to store your wine glasses and favorite libations. Its 5 'oclock somewhere! This home is wonderful for entertaining or just enjoying year round!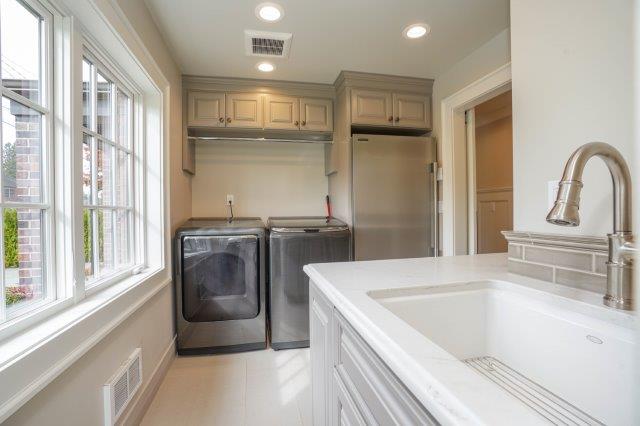 The laundry area on the main has a full size freezer as well as a deep additional farm sink.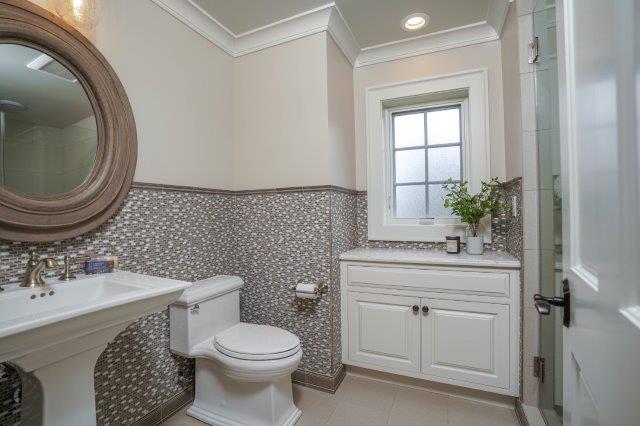 And finally the main floor also features a gorgeous 3/4 bath with a pedestal sink and built in cabinet with counter space.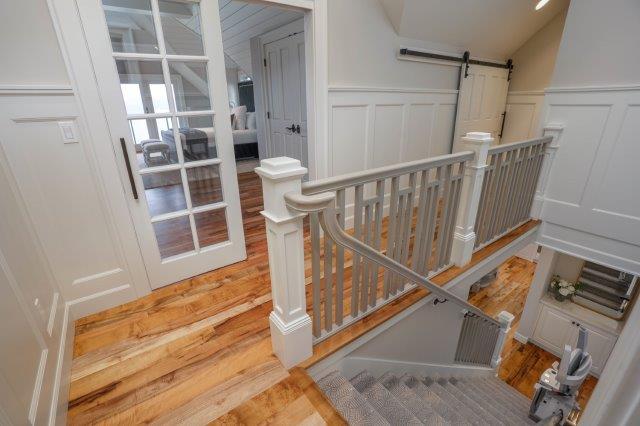 Now head upstairs to the master suite… and if you need assistance with stairs there is a convenient chair lift to make things a little easier.
Step into this stunning oasis and you'll want to look no further for your dream home! Imagine waking each and every day to this interesting architecture and quality finishes on the vaulted ceilings. You'll wake to the view of the sound and the boats passing by each and every day! There are two walk in closets here and a slider to your very own deck.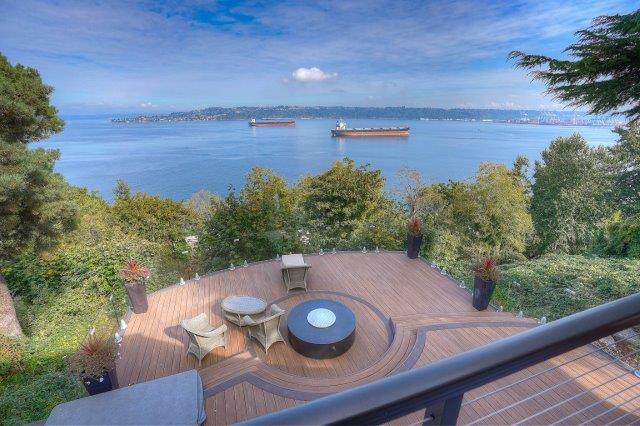 Step out from the master suite and breathe deep the salt air and start your day refreshed! Enjoy this view with your morning coffee and feel inspired!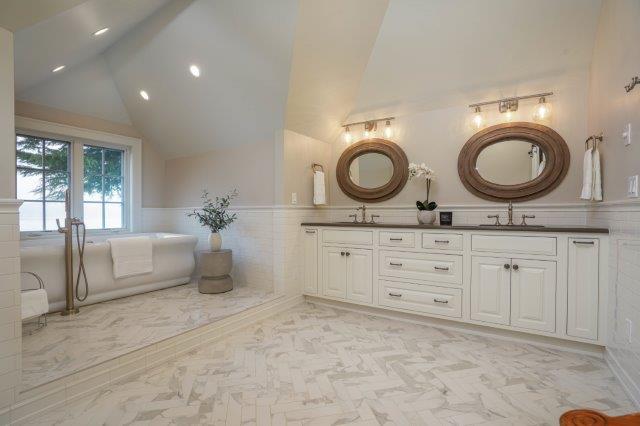 The master bedroom is en-suite and features a private full bathroom with yet more quality details.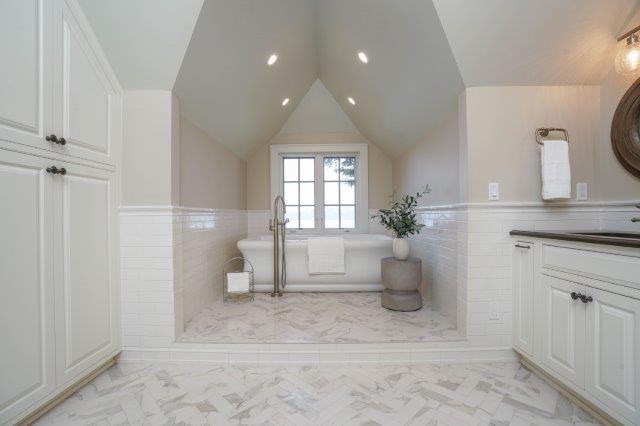 Pamper yourself and soak the troubles away in this stunning garden style tub nestled in a cozy nook with views of the sound. The elegance in this room will leave you feeling like you have your very own day spa right in the comfort of your own home 🙂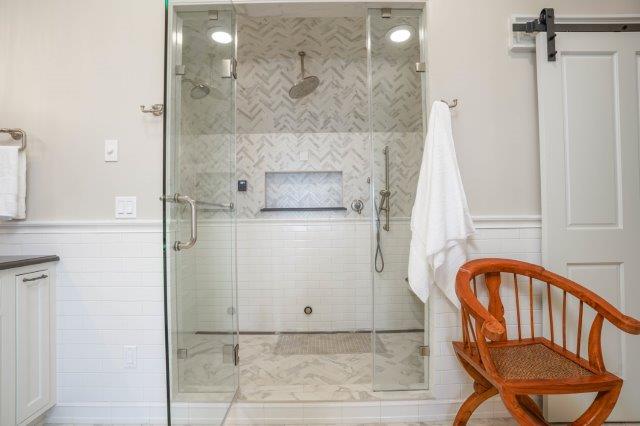 Step into the full tiled shower complete with two shower heads, a flexible spray handle and a convenient sitting bench.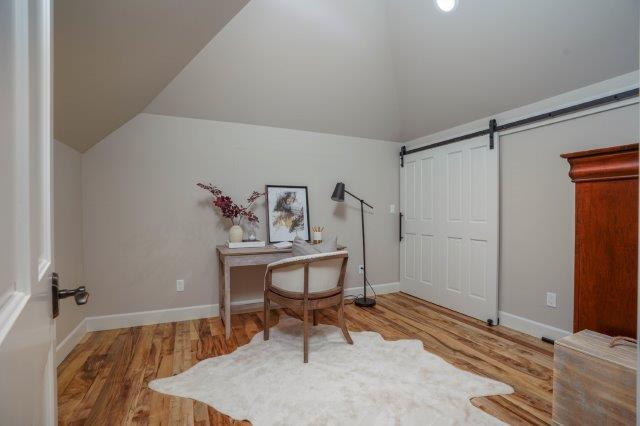 Upstairs also has a bonus area that would also make for a great little study, craft or work from home office. The options are endless.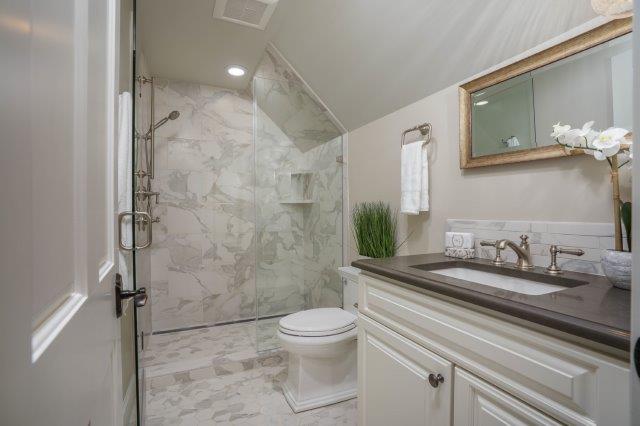 And finally the upstairs features an additional 3/4 bath with custom touches throughout.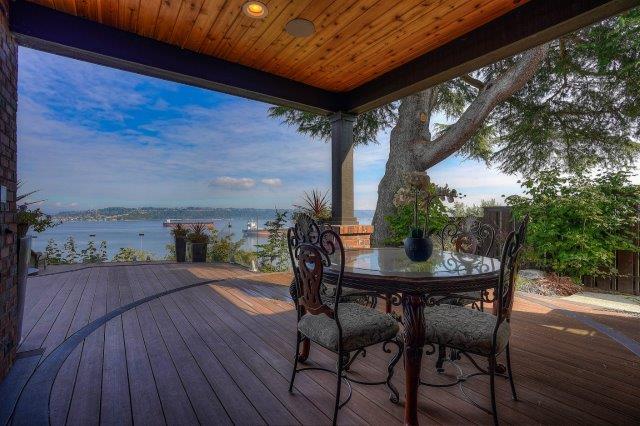 Now step outside to the covered deck area that is the ideal spot to relax under cover and dine alfresco!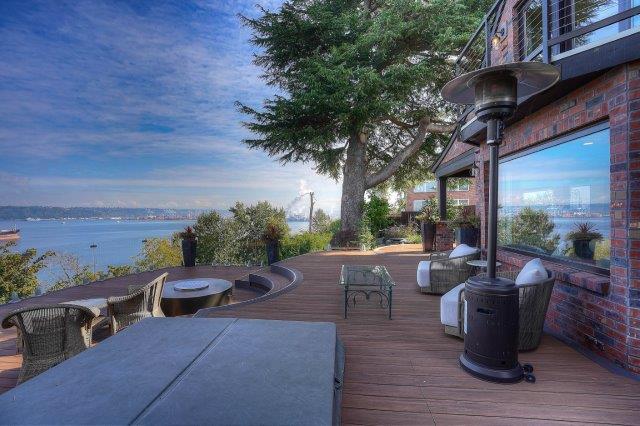 Invite the friends and family over to host a memorable occasion on this expansive two leveled deck complete with a hot tub.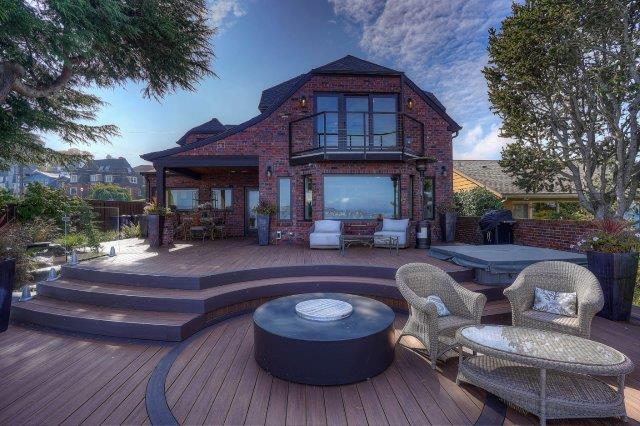 Cozy up at night to the fireplace after a barbecue and enjoy the good times with your favorite glass of liquid relaxation while sharing smiles and laughter with those you love!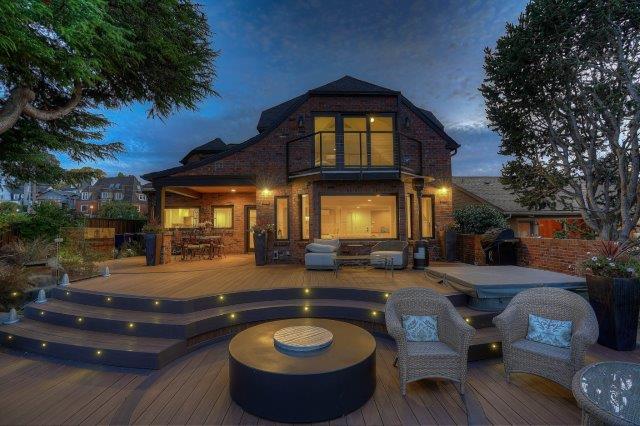 This custom deck features built in lighting for that little extra touch of elegance as well as wrap around glass railings so you don't miss the view! Night time here is stunning!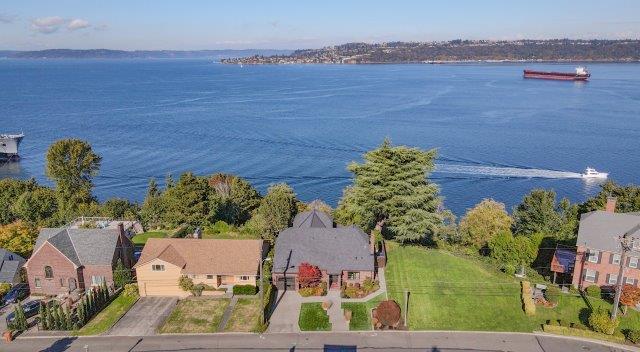 The special things about this stunning, once in a lifetime opportunity cannot be understated! It is conveniently located in the Historical Stadium District of Tacoma, providing easy access to the Tacoma Waterfront, freeways, hospitals, schools and shopping. Enjoy attractions such as the Tacoma Art Museum, and the Theater District. Pick up some fresh locally grown produce at the Broadway Farmer's Market which runs from May 7th through October 29th and is celebrating its 31st year making it Tacoma's first and longest standing market! Head down to Dock Street Marina to rent kayaks and explore Tacoma's waterways while taking in stunning views of Mt. Rainier and the Cascade Range on a clear day. 
1425 N Winnifred St. Tacoma WA 98406
The Essentials:
4 Bedrooms/ 2.25 Baths
Approx.  2,284 Square Feet
8,772 S/F Lot
2 Car Attached Garage
Offered at $650,000
Click Here to View the Listing
Click Here for the 3D Virtual Tour!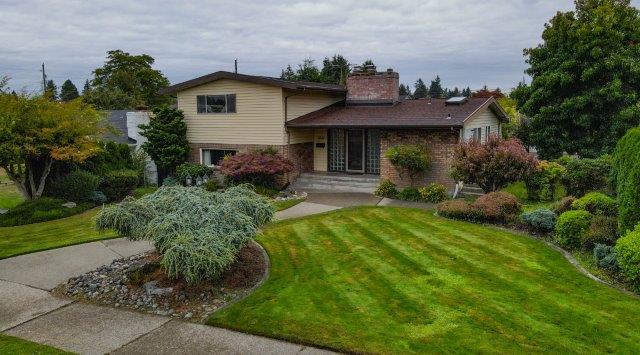 Offered for the first time since 1964 is this terrific Westgate home with a practical and versatile floorplan! The location doesn't get any better than the highly sought after North End Tacoma. Many discover the area to be a nature lover's paradise with the convenience of a developed city—businesses, restaurants and shopping are all nearby, and its central location provides easy access to nearby cities.
Enter the living area and notice the beautiful hardwoods that have been protected by carpet for the last 50+ years but are now exposed! A wood burning fireplace will keep you warm and toasty on the chilly nights in the pacific northwest and the large windows allow ample natural light all year round.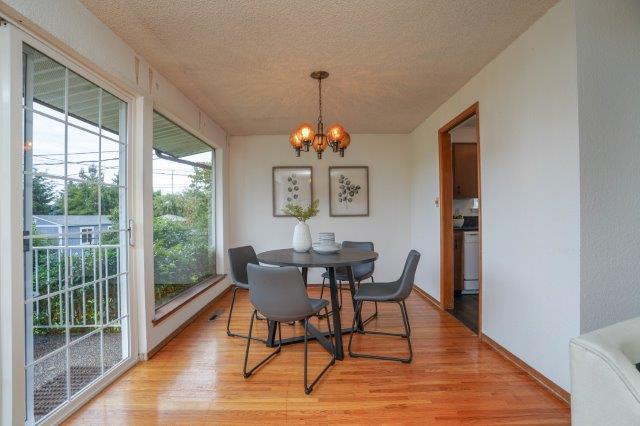 The spacious dining area is the perfect spot to gather and host special occasions. Large windows keep the natural light coming in year round.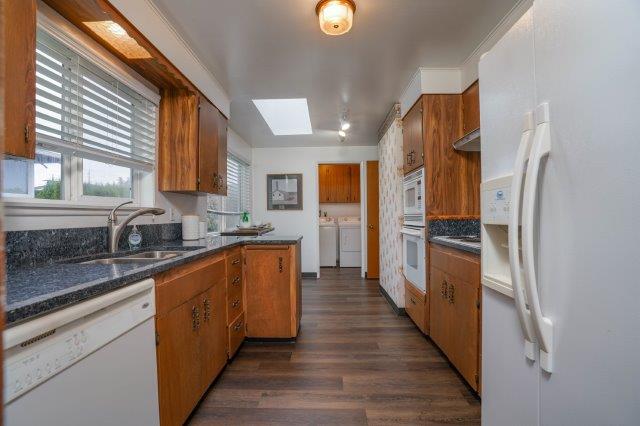 Enter the kitchen and find all new LVP flooring. There is ample counter and cabinet space as well to store all of your kitchen gadgets. The laundry room is just ahead.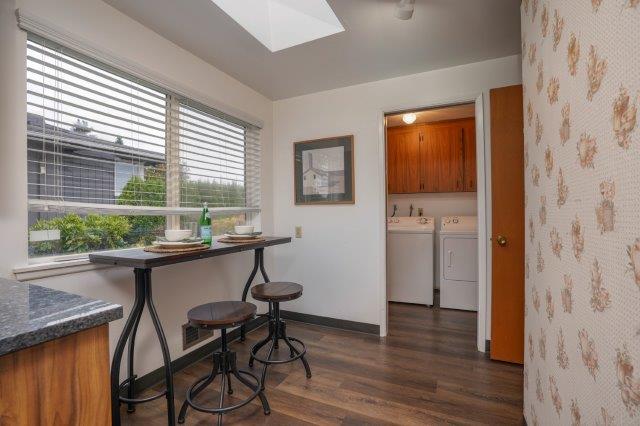 The kitchen features a nice breakfast nook, too and a perfect spot to place a small table for a light breakfast and coffee in the morning.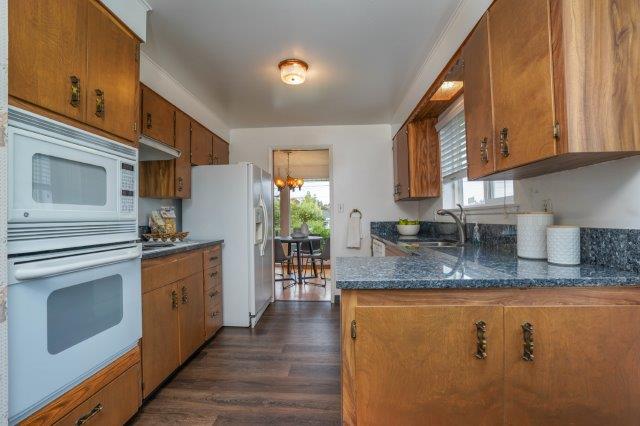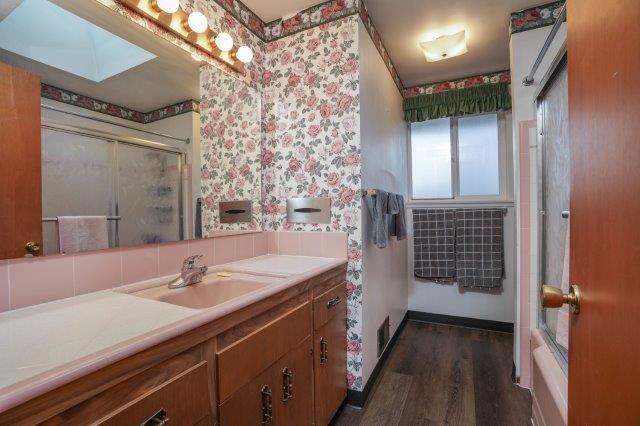 The main bath also features all new LVP flooring.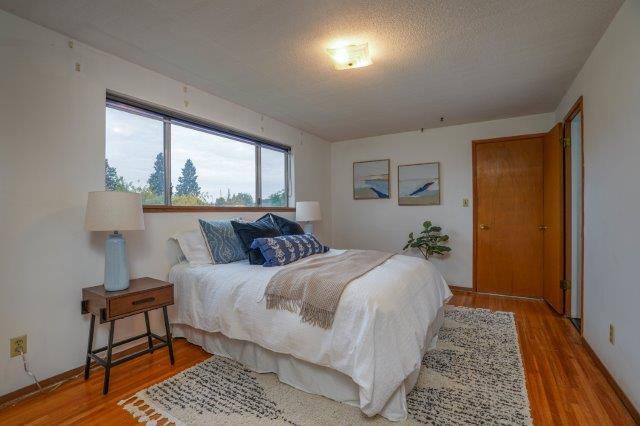 Enter the master bedroom that features a private 3/4 bath and hardwood floors.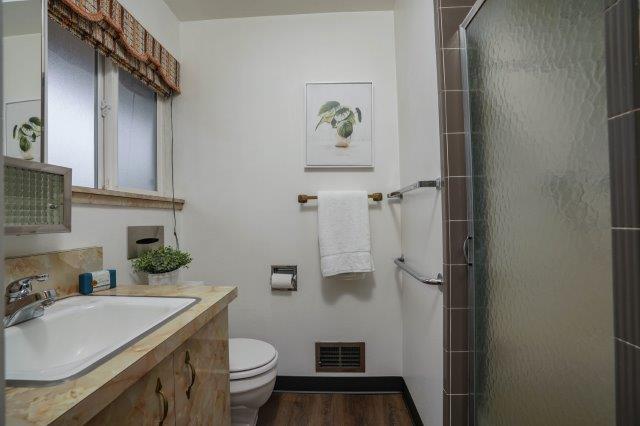 The 3/4 bath in the master also has new LVP flooring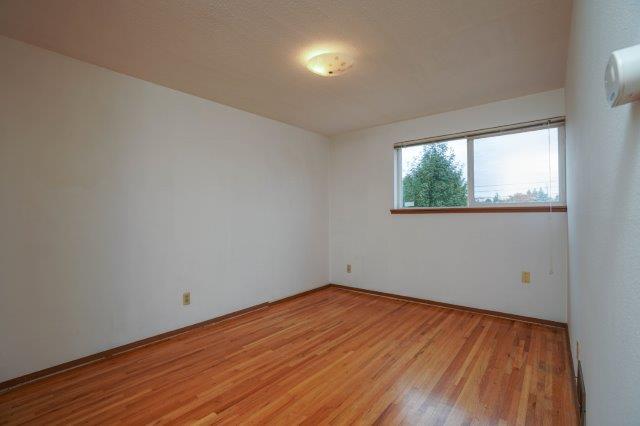 One of two other bedrooms with beautiful hardwood floors.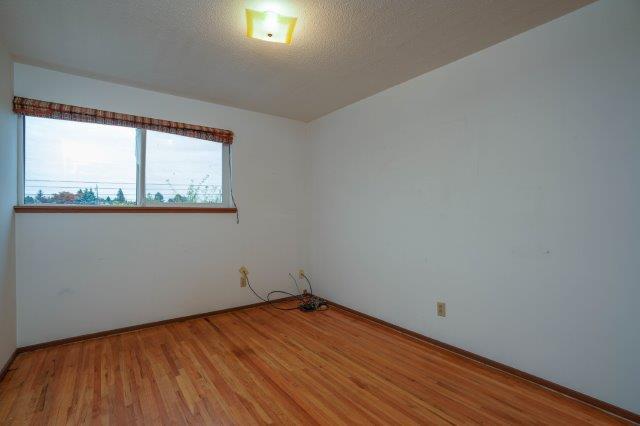 The 3rd bedroom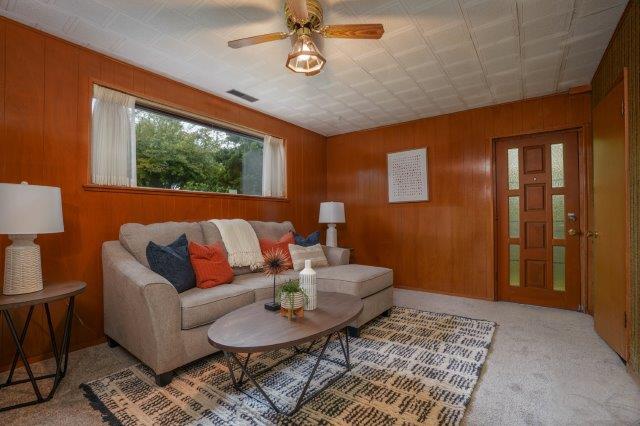 This versatile floorplan features a family room on the lower level with it's own entrance. This home would be ideal for multi-generational living!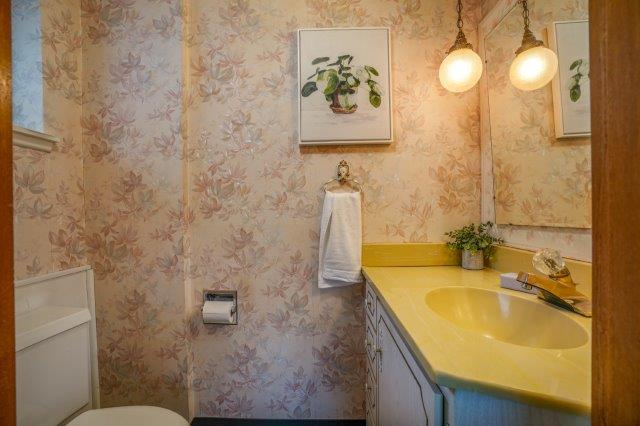 There is a convenient 1/2 bath just off the family room, too.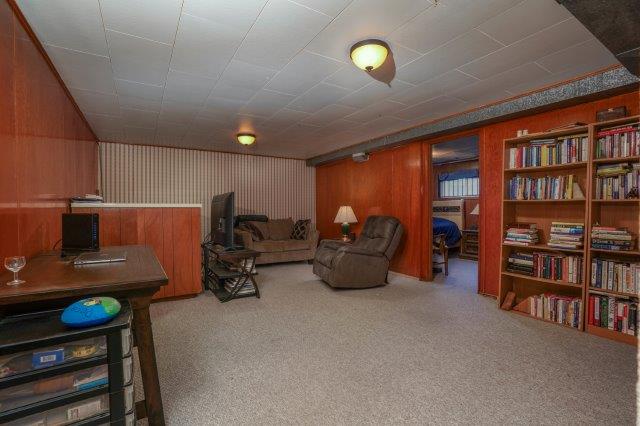 Head down a little lower and find a spacious rec room with an additional bedroom as well. The built in bar area is a great place to gather with friends to watch a ballgame. This space also features a fireplace to keep you warm while you gather.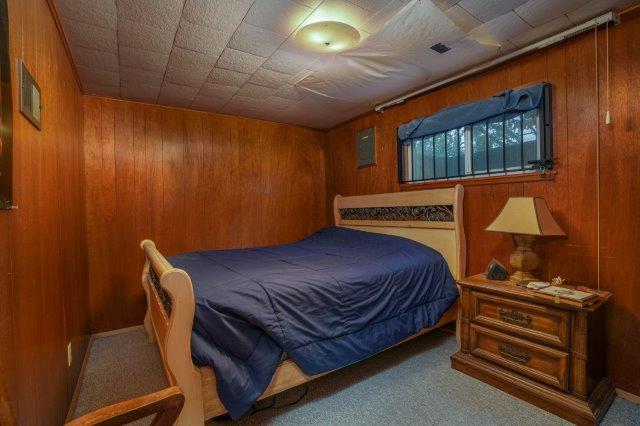 The 4th bedroom on the lower level is private. This would also make for a great in home office!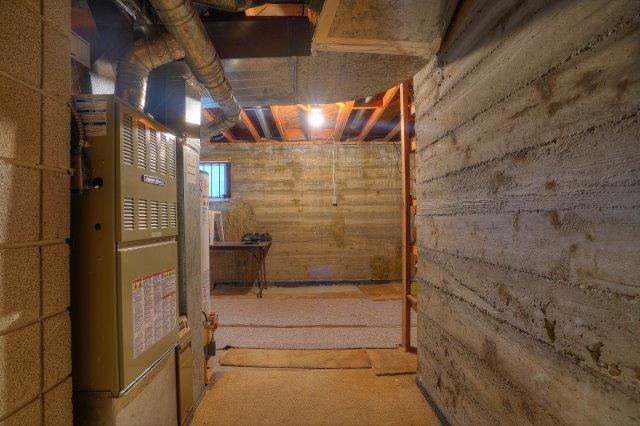 The lower level has an additional bonus of a great storage area!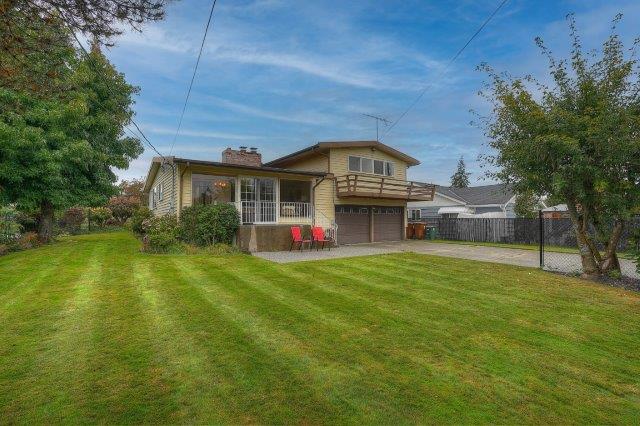 The backside of this home features a rear load 2 car garage off of a paved alley that really enhances the curb appeal on this flat, fenced lot.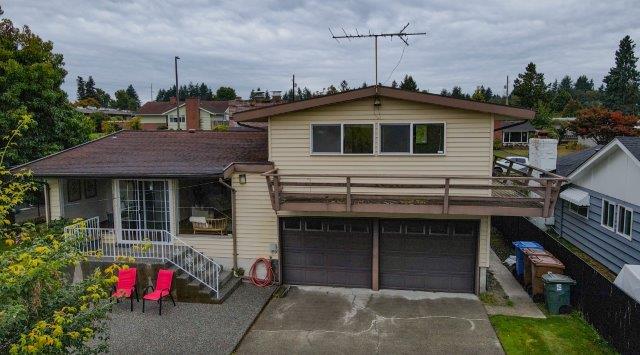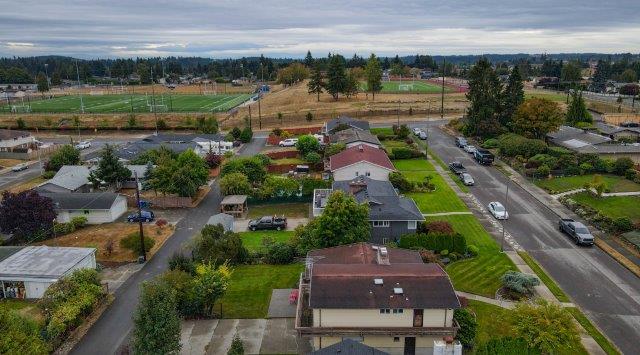 This home is just a short walk away from Silas Highschool. Feel like dining out? You definitely don't want to miss trying Cooper's Food & Drink , a locally owned restaurant and bar dedicated to providing a superb dining experience with excellent service. They proudly serve regionally sourced ingredients and beverages and have a really nice covered outdoor dining space you'll love! Ready for some fun outdoors? Walk to Kandle Park and explore the walking trails, a new playground & sprayground, skateboard area, wave pool with four 25 meter lap lanes and a separate spraypool! Tacoma's NEWEST Outdoor Pool at Kandle Park is not just any pool …it's the first wave pool in Pierce County, and one of only a handful in Washington! The pool features a gradual beach-like entry, so it's easy for people of all ages and abilities to get in on the action. A separate shallow tot pool and sprayground ensure a fun time for the whole family. North End of Tacoma is a great place to call home!
3012 Vista View Drive Tacoma, WA
The Essentials:
4 Bedrooms / 3.75 Bath
6,812 Sq. Ft.
23,381 S/F Lot
3 Car Attached Garage
Offered for $2,450,000
CLICK HERE FOR 3D VIRTUAL TOUR!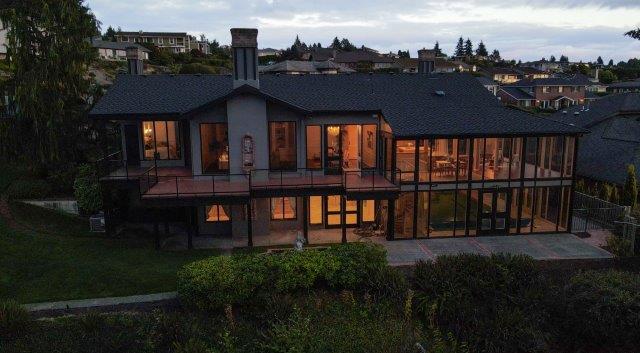 Welcome to this luxurious palatial home in Vista View located on the West Slope of Tacoma   This home has arguably the best view in Tacoma spanning over 180 degrees from Colvos and mouth of Gig Harbor around to The Narrows Bridges, Fox & McNeil Islands and the majestic Olympic Mountains!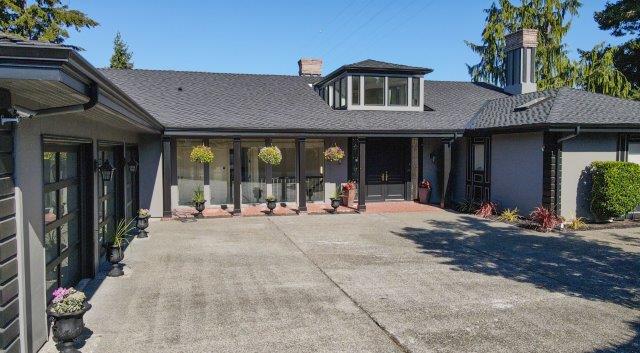 The home features a circular drive with two gated entrances as well as a 3 car garage.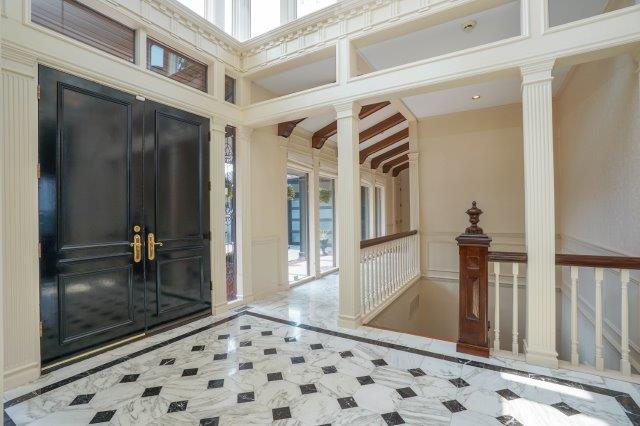 An elegant entrance welcomes you into the former residence of the famous classical musician Yanni, This grand residence available for the first time in over 14 yrs.
This amazing home is designed with impeccable details throughout that are sure to garner attention from your guests. The stylish formal living room will be a comfortable place to gather while enjoying the expansive views through the walls of windows.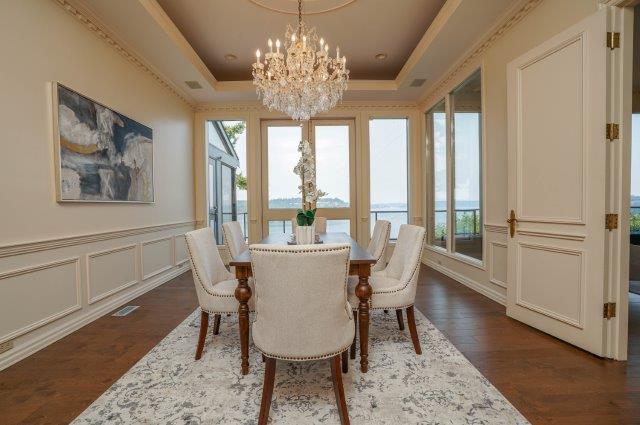 You will host top notch formal dinners and celebrations in a stunning dining space year round. A classic chandelier sets the tone for elegance amidst a backdrop of the picturesque Puget Sound.
Step into the hub of this home into a paradise of exceptional quality and walls of glass to capture every moment on the sound from dawn until dusk. You'll be ready to entertain in the well equipped kitchen that features all of the conveniences of a sub-zero refrigerator, 2 built in beverage refrigerators and a cabinet icemaker! The large center island is perfect for displaying appetizer trays for when the guests come by.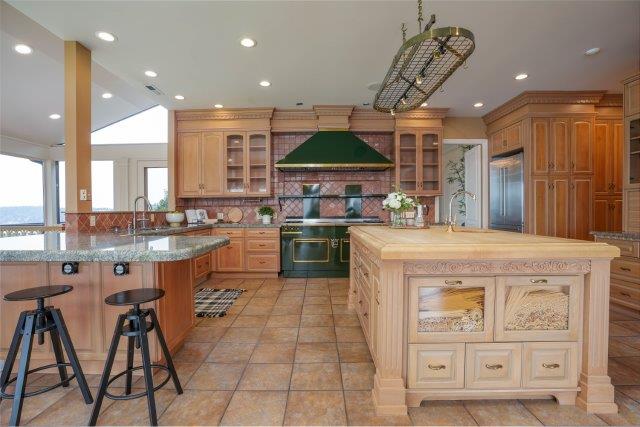 "The heart and soul of any self-respecting kitchen devoted to the culinary arts is without doubt the stove. The stove must of course be aesthetically pleasing and must play its full part in the decoration of this important living space, but it must also incorporate the finest cooking qualities so that the cook can express himself or herself with all the brio of a top-class chef". Built in France, this Fourneaux Morice stove here exemplifies timeless design with exceptional performance and you'll feel like a world class chef in your very own kitchen! Take inspiration from the breathless views this space has to offer and create your own culinary delights!
This expansive space provides for the best views every day so you'll never miss an amazing sunset as this home faces west.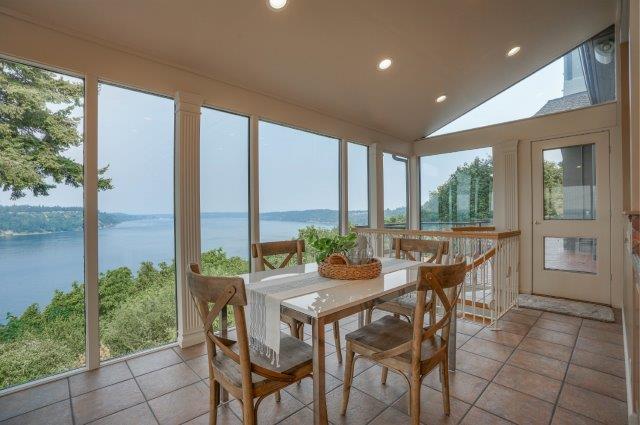 The spiral staircase here conveniently takes your down to the pool room. Start your day with a healthy breakfast and head down for a relaxing swim!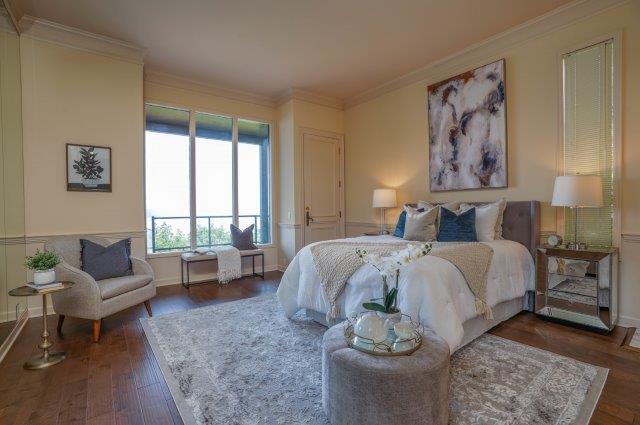 The Master En-suite will have you waking each day to the peaceful and serene views. Take your cup of coffee and morning read and head out to the deck just outside the door to take in the fresh salt air and start your day off relaxed and recharged.
An amazing feature of the Master Suite is 2 separate bathrooms and walls of closet, counter and storage space and a washer and dryer for convenience. With ample lighting and large mirrors you'll be in your own Hollywood-esque dressing room ready to pamper yourself and shine!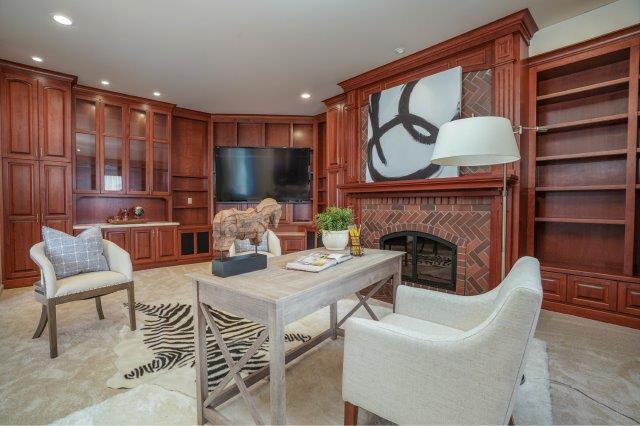 Also featured on the main level is a fantastic media room or could be an incredible home office as well. The cozy fireplace will keep you warm while you enjoy a great new film and the room is also well designed with floor to ceiling built ins and an acoustical ceiling as well. Perhaps Yanni used this room for composing a classical masterpiece?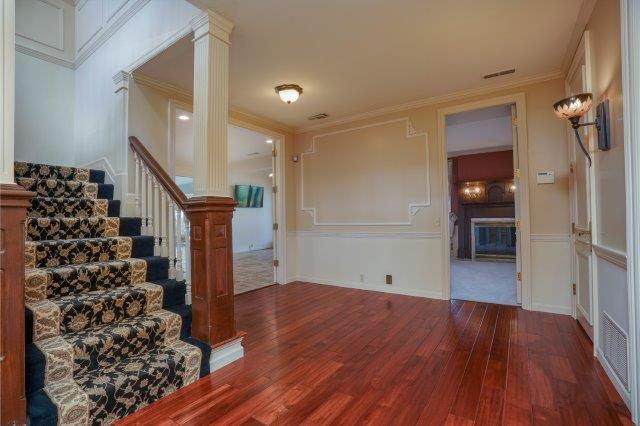 Head downstairs to find even more spaces to explore….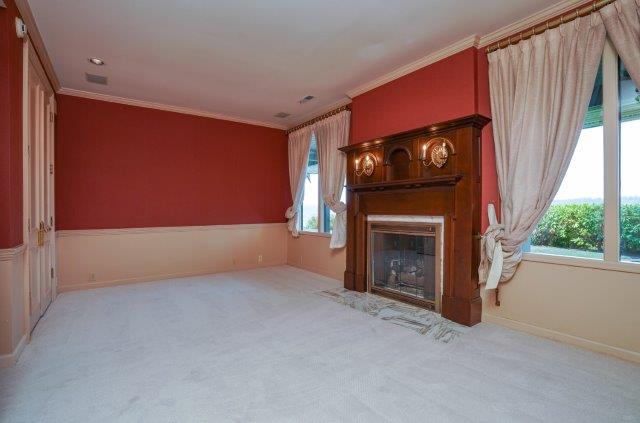 One of the 3 spacious bedrooms downstairs also has a fireplace and all the views!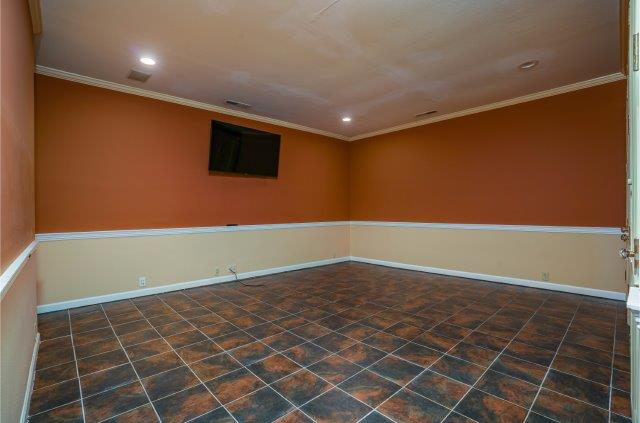 This space makes for a perfect 4th bedroom or an in home workout room!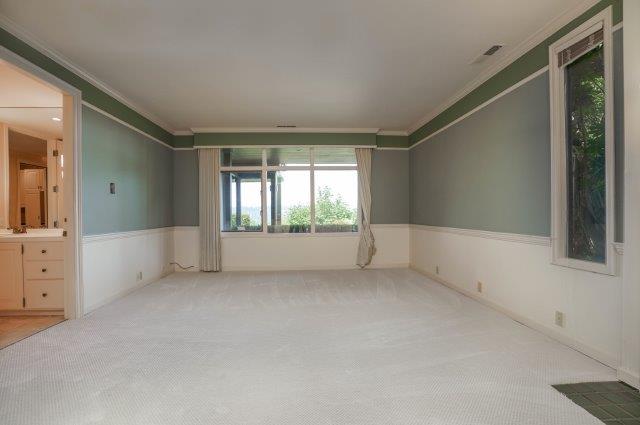 Another huge bedroom downstairs with the views as well. For convenience there is also a full plus a 3/4 bath downstairs and a handy laundry area.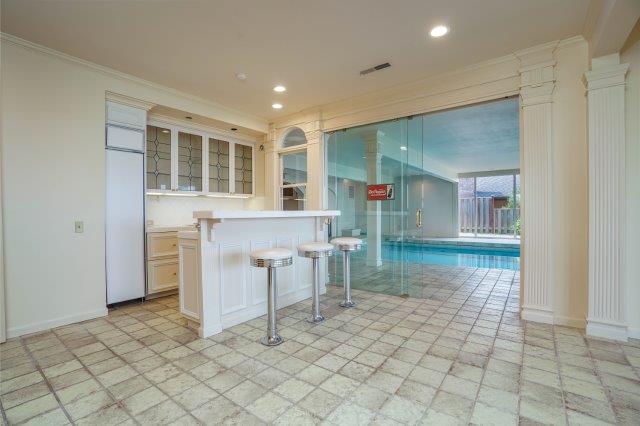 Now head into the parlor just off the pool room. Invite the friends over for a swim and a tastey beverage you can prepare at the wetbar! This is an incredible space to entertain after a swim party!!
Enjoy better health and wellness while taking a relaxing swim in the full size pool then step into the hot tub to ease the tension away and unwind. It is important to note that all major systems in this grand home have been updated in last few years, including a 50-year roof, new A/C compressors, furnaces, pool pump and a hot tub heater. Your guests may never want to leave!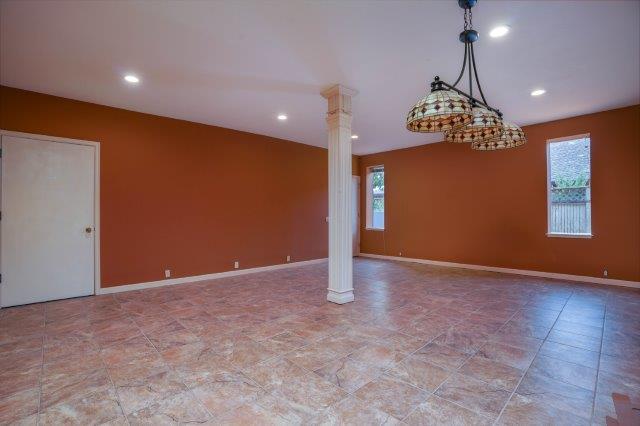 And finally there is also a huge room off the pool area that would make for a terrific billiards, card and cigar room!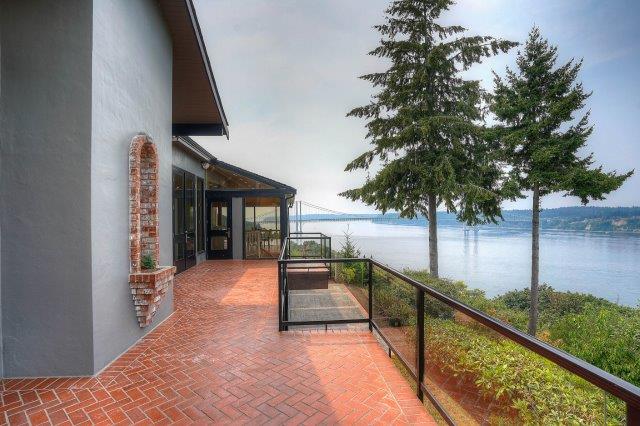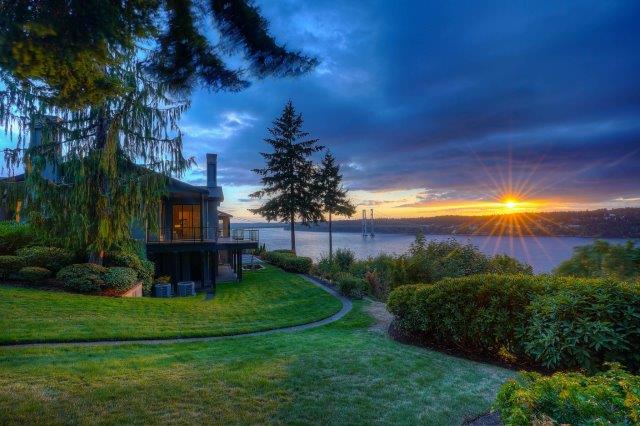 Breathe…. Deep! This is the place to take in the fresh salt air and entertain! Dine alfresco while taking in picture perfect panoramic views of the mouth of Gig Harbor to the Narrows Bridge. Imagine photographing remarkable sunsets on your patio and gazing at the Olympic Mountains and coastal waterway….. It truly doesn't get better than this!
Located in the desirable North End of Tacoma and minutes to Point Defiance Zoo and Aquarium, this exceptional home is perfect for year round entertaining!  Explore several waterfront parks and beaches as you walk, run or stroll Ruston Way. With views of Mount Rainier to the West, the Olympic Mountain Range to the East and Commencement Bay, there's no better place to spend a sunny afternoon or take an after-dinner stroll. Rent a boat for the day, a kayak or a paddle board or take a leisurely stroll on the fabulous Tacoma Waterfront and have a cup of award winning chowder at Duke's Chowderhouse outdoor on the patio. Relax in a reclining lounge chair and catch a great new release at the Ruston Way Theatre! There are so many wonderful restaurants to choose from so close by and entertainment and shopping opportunities, too. Within blocks you can jump on the freeway and enjoy easy access to wherever you desire to be!

1453 N Villard St. Tacoma WA 98406
The Essentials:
3 Bedrooms/ 1 + 3/4 Baths
Approx.  1,231 Square Feet
8,910 S/F Lot
1 Car Attached Garage
Offered at $485,000
Click Here to View the Listing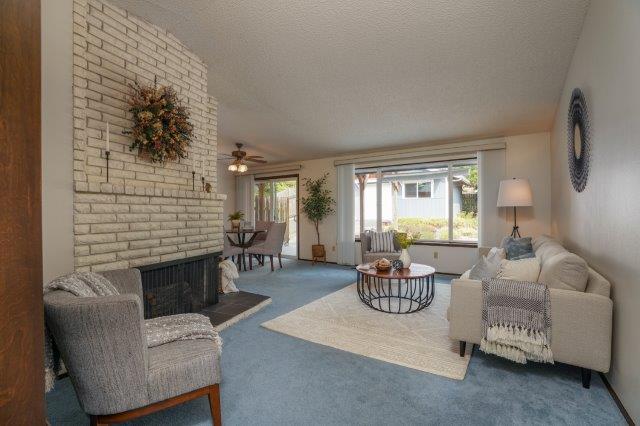 Welcome home to this charming Westgate rambler on the market for the first time in 34 years! Located in the desirable North End of Tacoma you'll be in close proximity to all the best restaurants, shopping and much more! You're just minutes to 6th Ave, the Proctor District and the Tacoma Waterfront!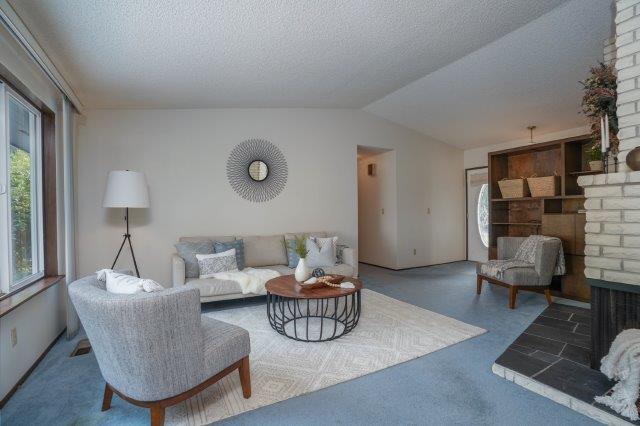 The cozy living room features a lovely wood burning fireplace to keep you warm and toasty on the chilly nights in western Washington.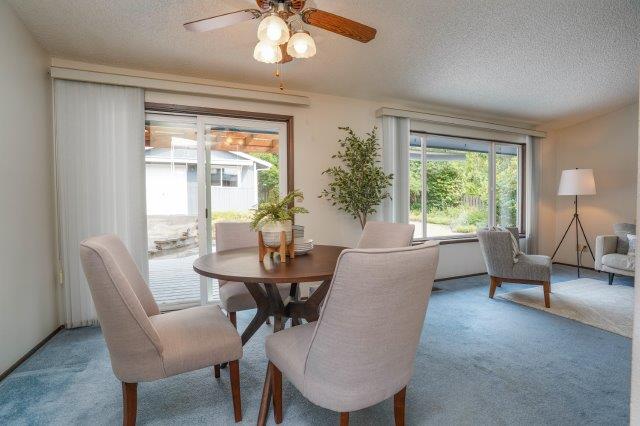 You'll feel right at home with a warm and inviting floor plan and a lot of natural light coming through year round. Cool off and keep the air moving with the ceiling fan.
Head into the functional kitchen where you'll find ample cabinetry with plenty of space to store and organize your kitchen gadgets. All appliances are included!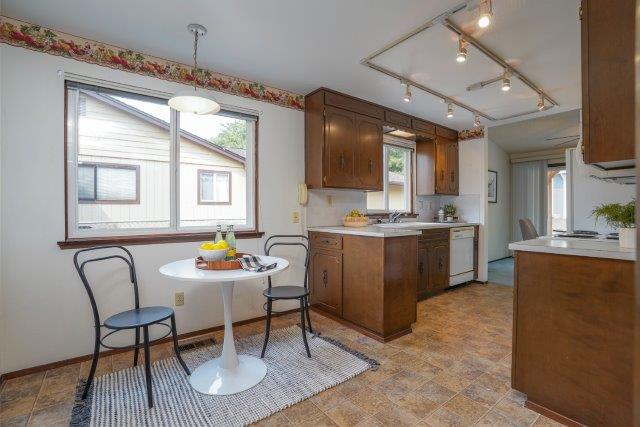 Enjoy your morning coffee and breakfast in this convenient eating space.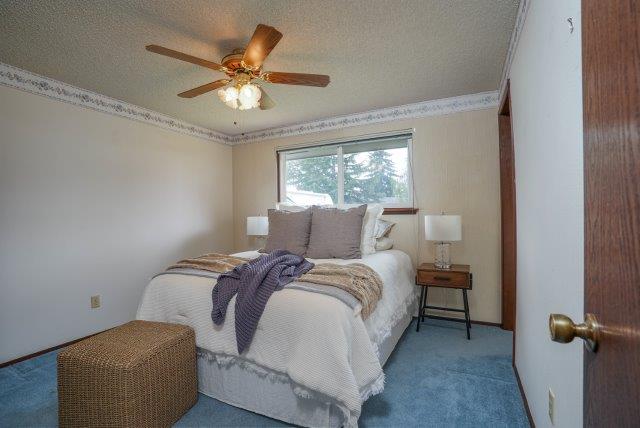 The Master Bedroom features a ceiling fan, a walk-in closet and a private bath.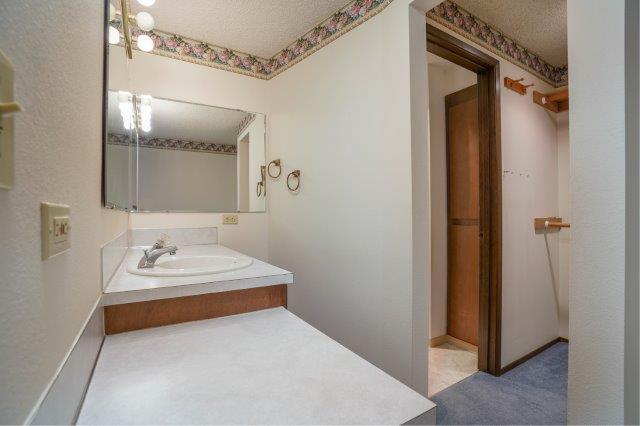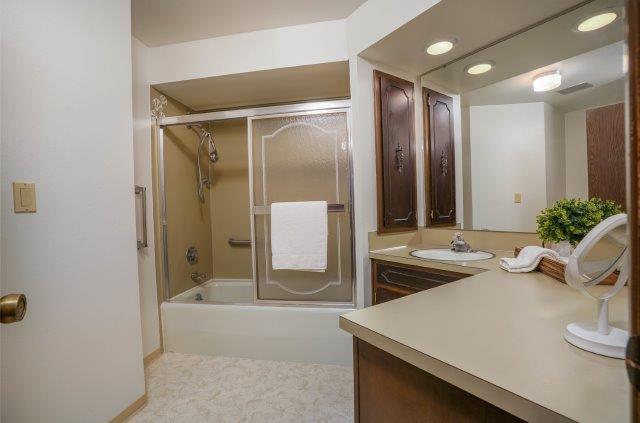 The spacious full bath has a full length mirror and plenty of counter space to organize your personal items.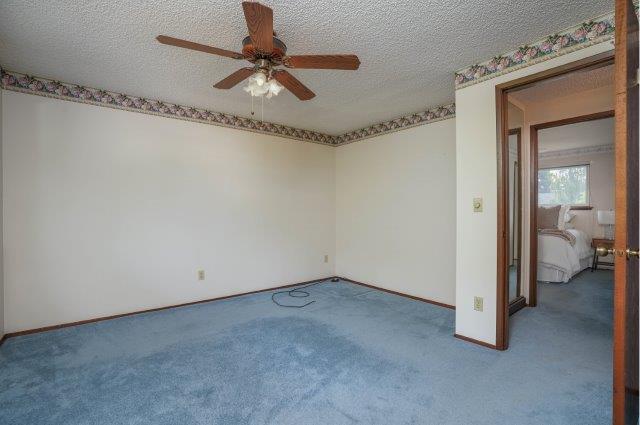 The second bedroom also has a ceiling fan to keep your cool and comfortable while you sleep 🙂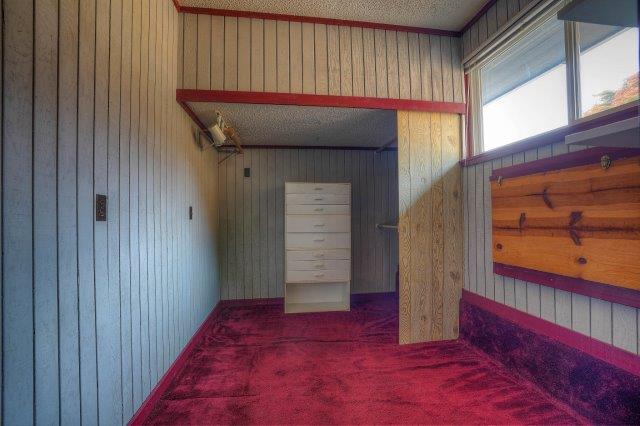 The garage conversion includes a bedroom. How would you use this space?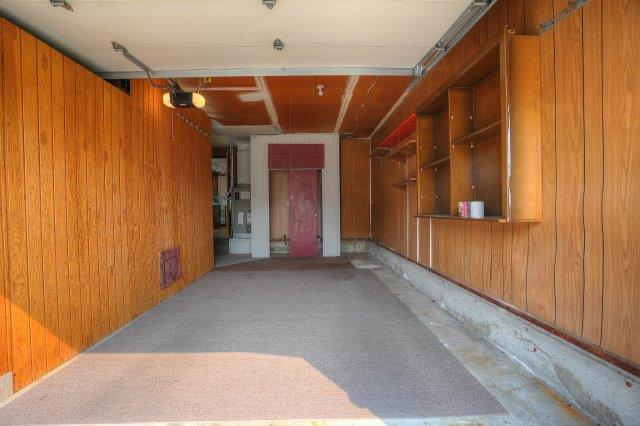 Adjacent to the 3rd bedroom is the one car garage
One of the best features of this charming home is the spacious fenced backyard with a large deck. The covered portion is great and provides a little shade for the sunny days. Enjoy dining alfresco in the beautiful northwest weather!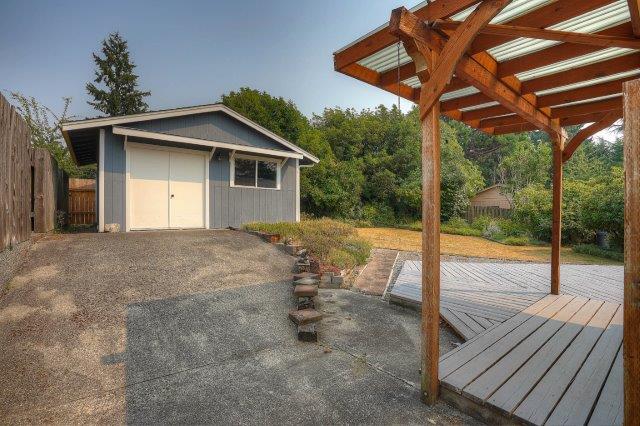 You don't want to miss the bonus 18 X 20 shop! It has power and double doors for easy access! But wait there's more… this home also features an irrigation system and a new sewer line for even more peace of mind!
Feel like dining out? You definitely don't want to miss trying Cooper's Food & Drink , a locally owned restaurant and bar dedicated to providing a superb dining experience with excellent service. They proudly serve regionally sourced ingredients and beverages and have a really nice covered outdoor dining space you'll love! Ready for some fun outdoors? Walk to Kandle Park and explore the walking trails, a new playground & sprayground, skateboard area, wave pool with four 25 meter lap lanes and a separate spraypool! Tacoma's NEWEST Outdoor Pool at Kandle Park is not just any pool …it's the first wave pool in Pierce County, and one of only a handful in Washington! The pool features a gradual beach-like entry, so it's easy for people of all ages and abilities to get in on the action. A separate shallow tot pool and sprayground ensure a fun time for the whole family. North End of Tacoma is a great place to call home!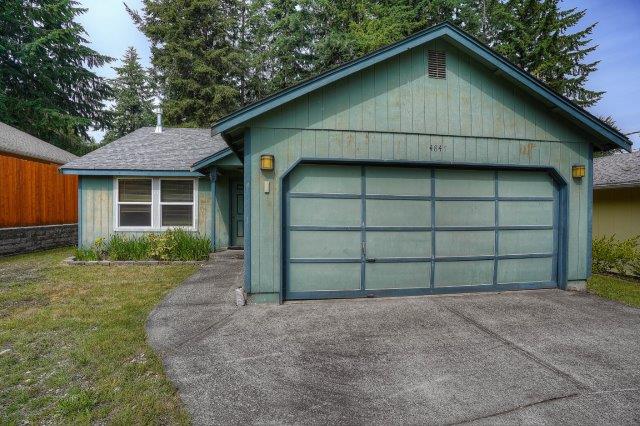 4847 Carole Dr. NE Olympia WA 98516
The Essentials:
3 Bedrooms/ 1 + 3/4 Baths
Approx.  1,070 Square Feet
6,000 S/F
2 Car Attached Garage
Offered at $350,000
Click Here to View the Listing
Located in the desirable Beachcrest Community of Olympia WA lies this great opportunity to build some sweat equity into a 3 bed rambler! The home is situated at a dead end street, allowing for increased privacy. This community provides access to a private beach, boat launch, marina, and park! Make sure you check out the video in this blog, you don't want to miss your new neighbor, the otter swimming at the beach!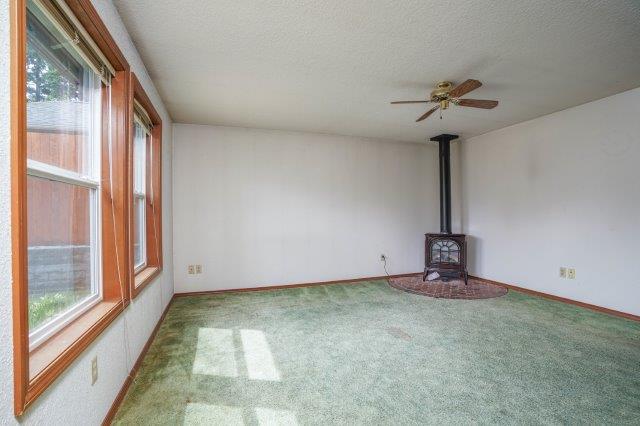 This home has the bones and your creativity will bring it back to new! Large wood wrapped windows allow plenty of natural light in. The electric fireplace will keep you cozy on the chilly nights.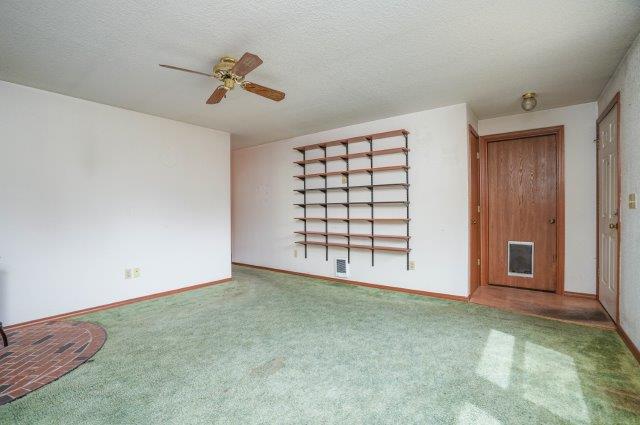 This home is ready for a new start, what ideas do you have for improvements?
The spacious kitchen comes with all appliances and ample cabinetry.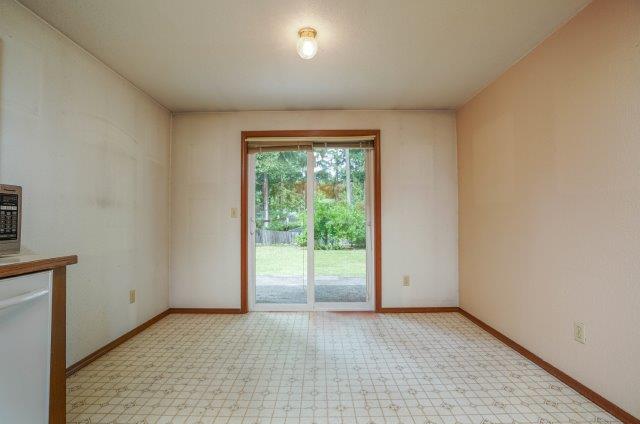 The kitchen has an eating space conveniently located by the slider for easy access to the barbecue.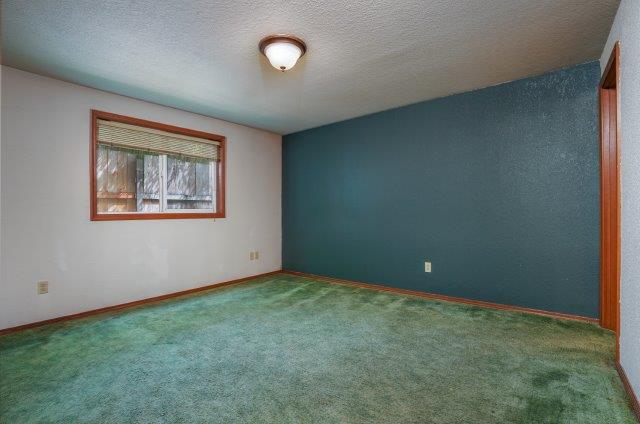 One of 3 spacious bedrooms. There is great potential in this home to make it yours!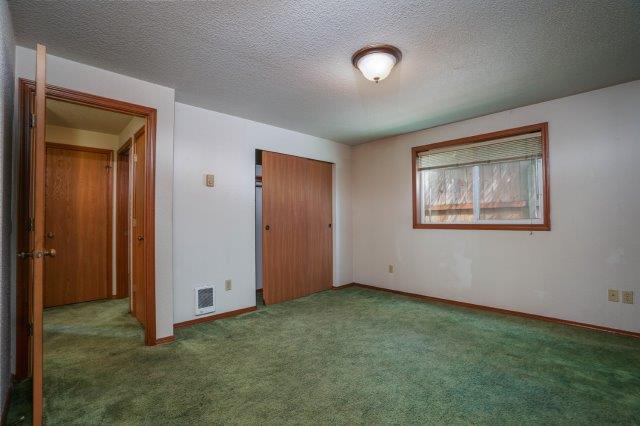 The wood trim throughout is a nice feature, with some carpet and paint it will be new again.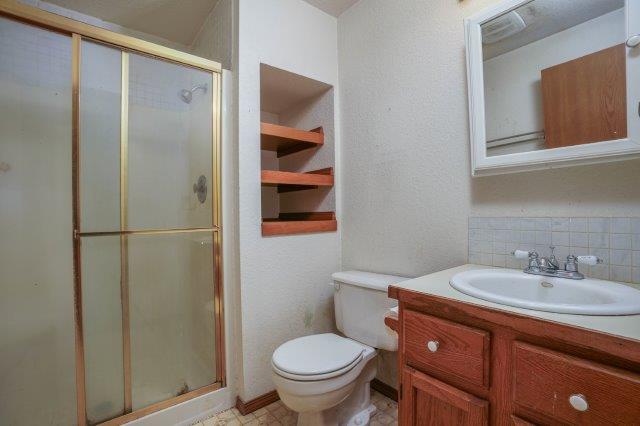 A 3/4 bath has built in shelving to store toiletries and towels.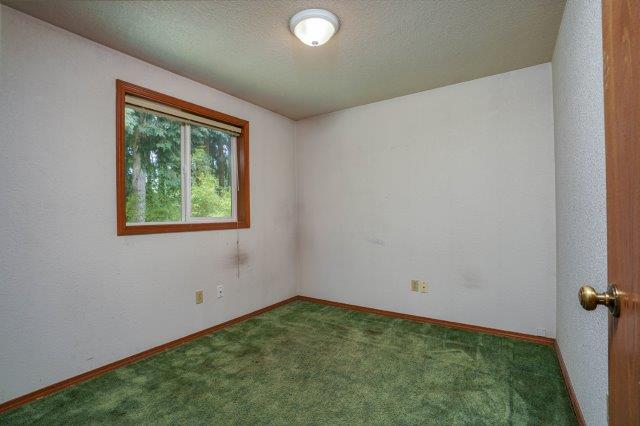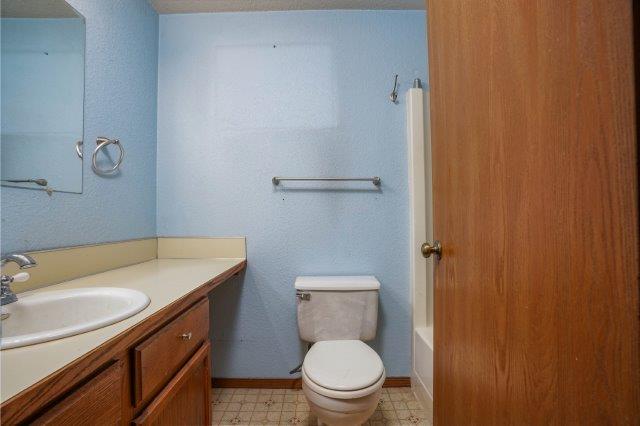 The home also has a full bath.
 The large flat backyard is perfect for entertaining! There's plenty of space for your favorite outdoor furniture so you can relax and dine alfresco on the beautiful pacific northwest days!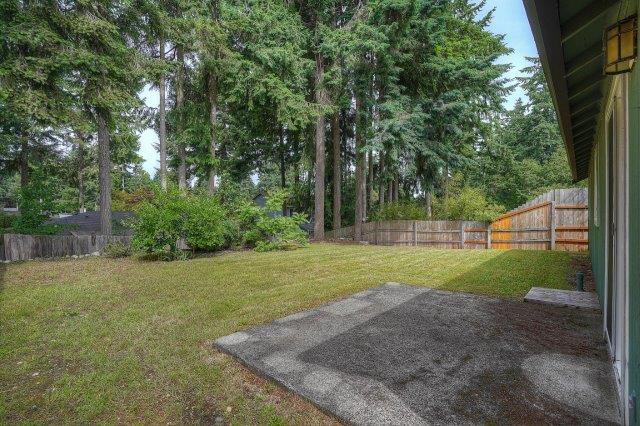 Fire up the barbecue and invite the friends and family over. The littles and furry ones will enjoy countless hours playing in the sun in the fenced back yard!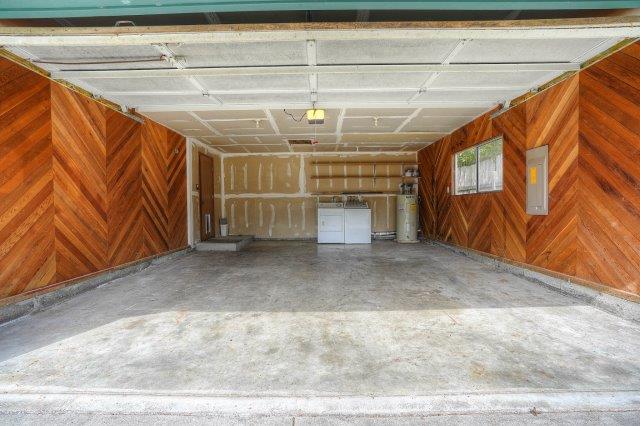 This home boasts an oversized two car garage perfect for any toys or projects.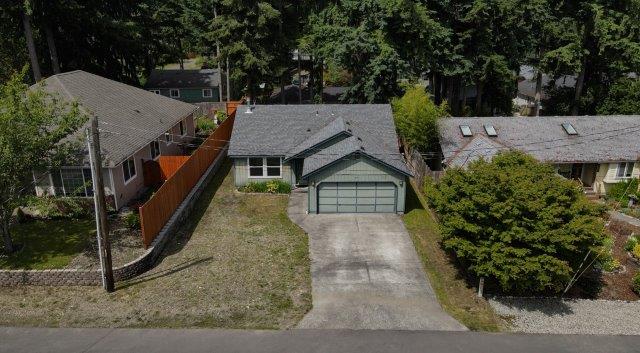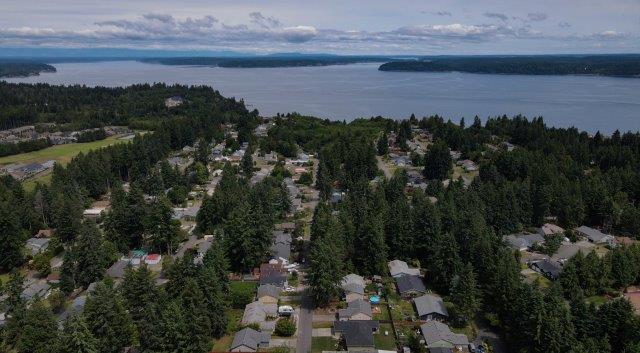 In close proximity to three different golf courses, Tolmie State Park, hikes, many restaurants, and easy freeway access. Want to do more in Olympia? Click here for a great guide to local favorite spots! Enjoy all the fun shops, amazing restaurants and talented arts that down town Olympia has to offer.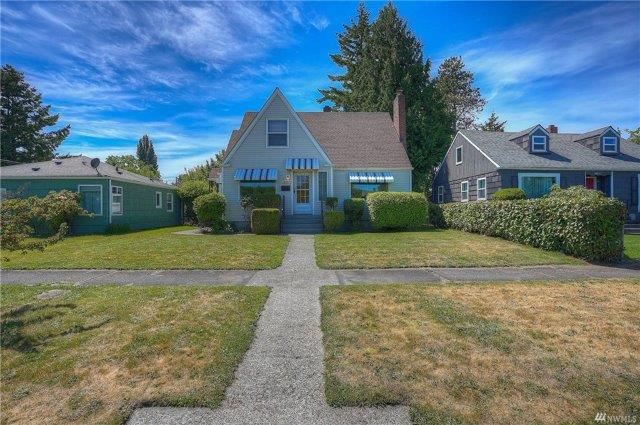 3826 S Ainsworth Ave, Tacoma 
The Essentials: 
2,677 Sq. Ft. 
6,500 Sq. Ft. Corner Lot
4 Bedrooms / 1 and 1/4 Bathroom
1 Car Detached Garage with room for a shop
Offered for $425,000
Click here to view the listing
Welcome home to this charming craftsman 4 bedroom home in the heart of the revitalized Lincoln District! Enjoy refinished hardwood floors in the cozy living room and a fireplace to keep you warm on the chilly nights in the northwest. Beautiful wood wrapped windows allow plenty of natural light through year round.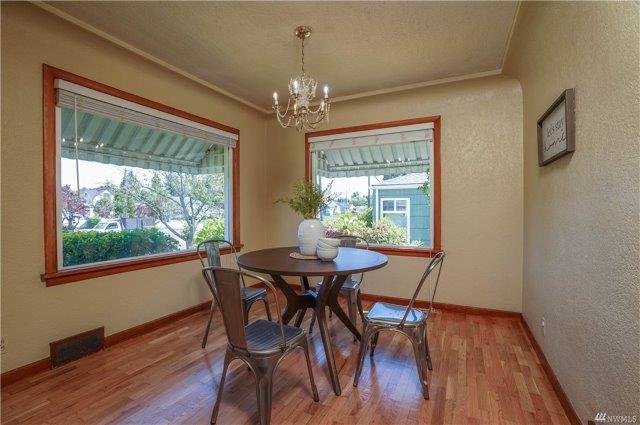 The quaint dining room enjoys a lot of natural light and is the perfect size for entertaining!
Pass into the kitchen where you'll find an open and spacious place with lots of cabinetry to store all of your cookware and kitchen gadgets.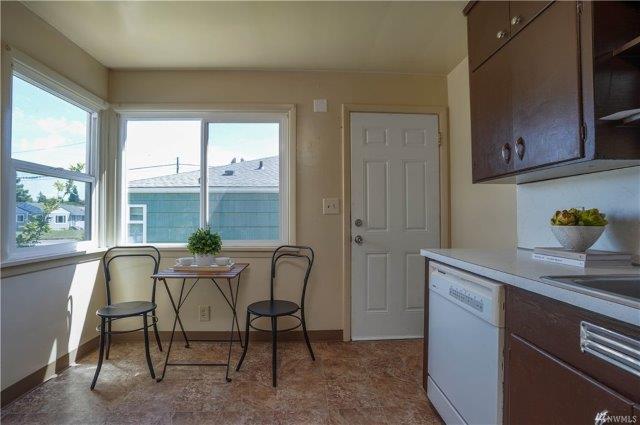 There is also an eat in space for a place to start the day with a warm cup of joe and a light breakfast.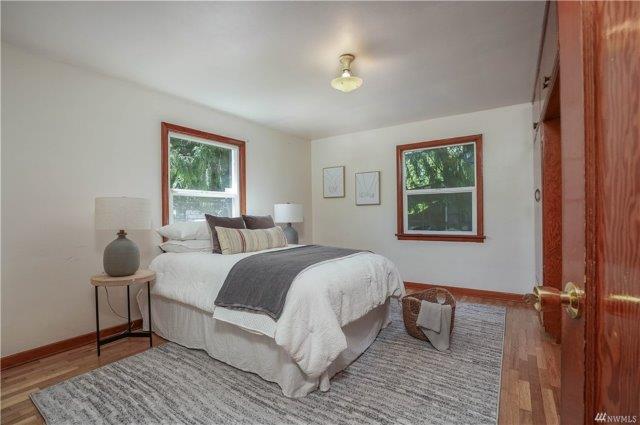 Head into the first spacious bedroom that welcomes natural light and enjoys hardwood flooring.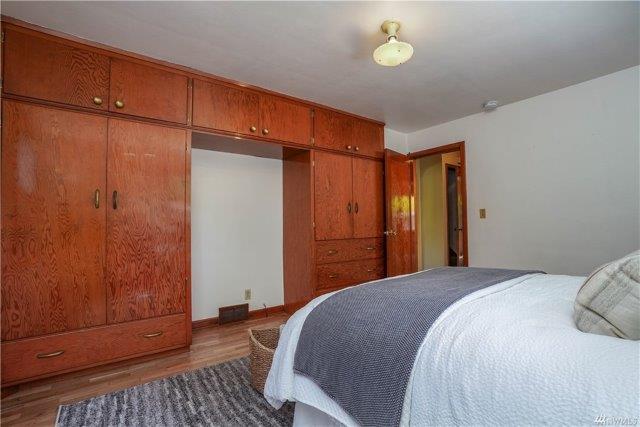 These terrific floor to ceiling built in closets are an ideal space saver!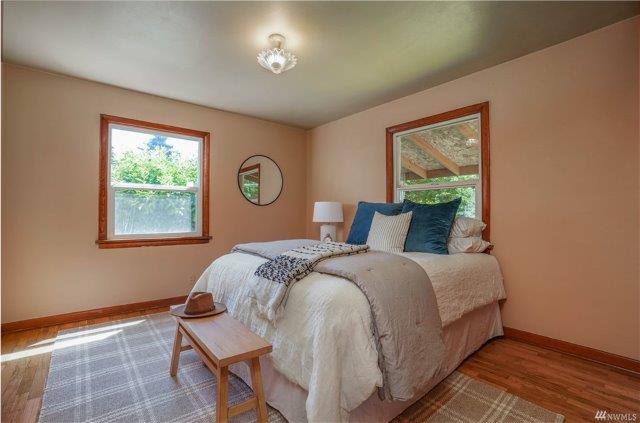 The second bedroom also enjoys beautiful wood wrapped windows and hardwood floors.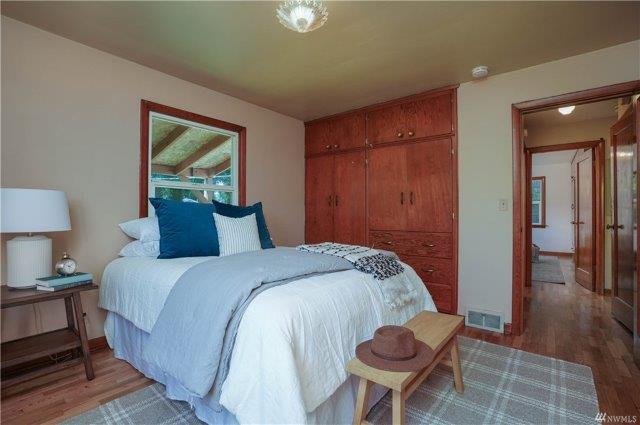 You'll love the floor to ceiling built in closet in this room, too!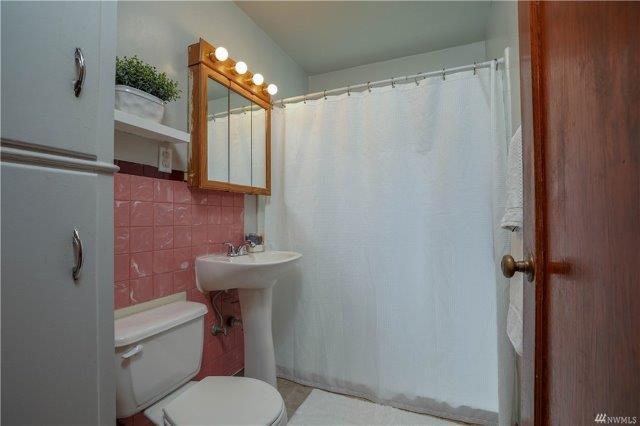 The main bath is really pretty with decorative tile and a pedestal sink.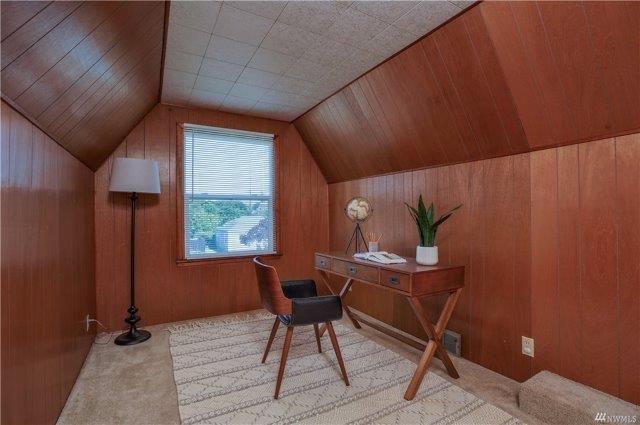 Upstairs you'll find a fantastic space ideal for an at home office! Save the commute and work from home!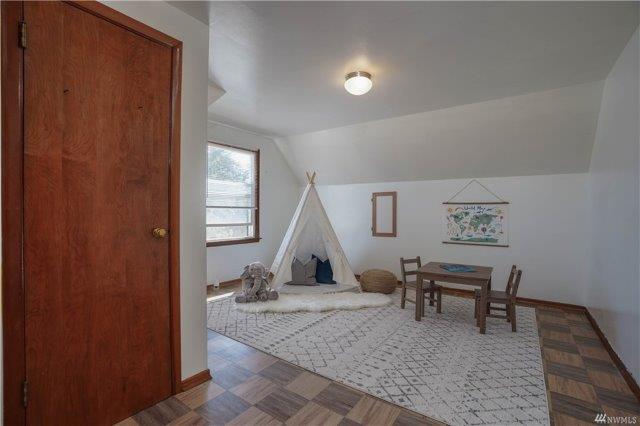 It flows into a terrific additional bedroom with tall ceilings, too that would be great for a craft or play area.
The 4th bedroom is huge with high ceilings!
Head down to the basement and find a huge rec room ideal for entertaining. This is a great spot for the pool table to hang out with friends!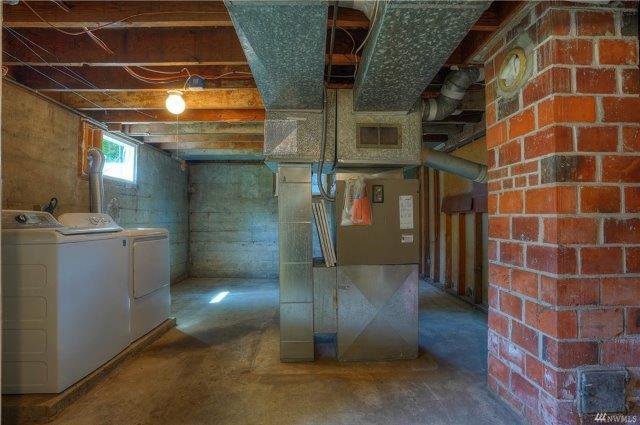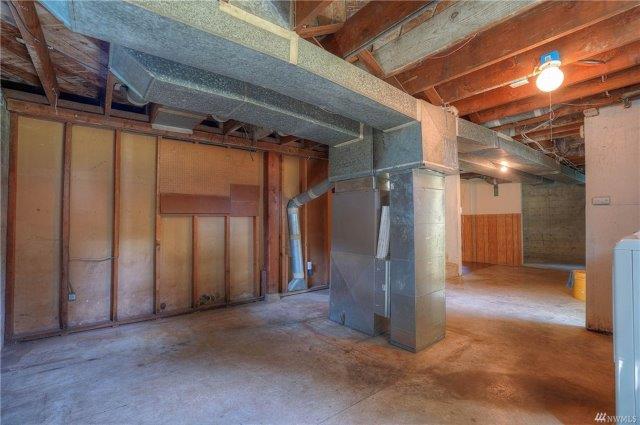 There is a ton of space for storage and you can finish out the basement for instant equity!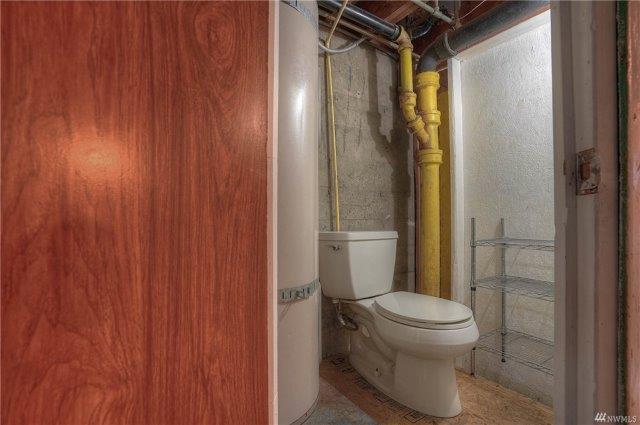 A 1/4 bath is located in the basement for a quick potty break 🙂
The spacious flat lot enjoys plenty of room that is perfect for gardening and entertaining. If you enjoy gardening you'll love how much room you'll have to plant your fresh vegetables and herbs. There's lots of room for the furry ones and littles to play and enjoy the sunshine!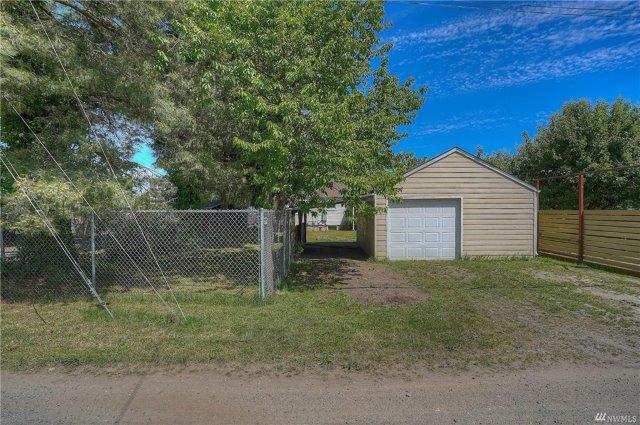 Here is the detached one car garage off the alley that has plenty of room for a shop and all your toys!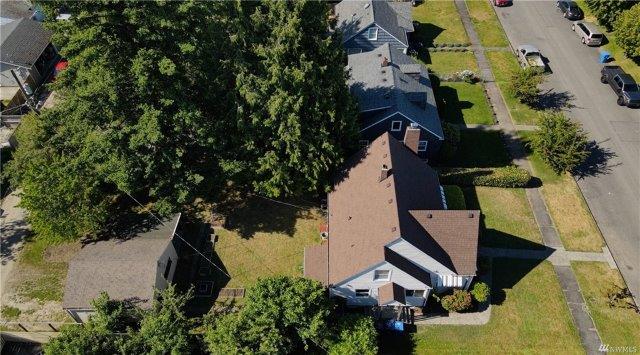 The roof on this charming home is newer as of 2018. Enjoy easy maintenance!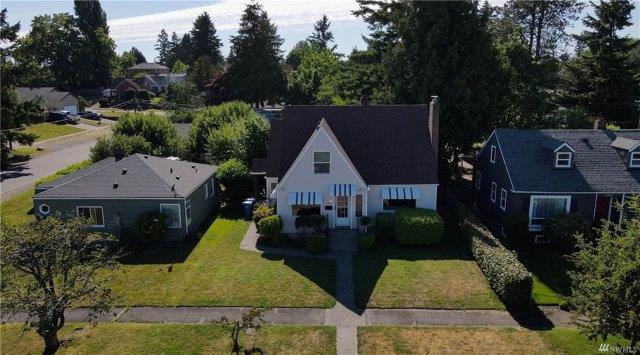 Conveniently located off S 38th St in South Tacoma there are a plethora of dining and shopping options within minutes. Lincoln Park is a great place to enjoy the outdoors with picnic sites, a playground, and a significant tree collection. It's a 10 minute drive or walk there in 15! Gray Lumber is 2 blocks away for your lumber, landscaping, and home improvement needs. Head West on S 38th Street and the Tacoma Mall has 150 stores and restaurants to choose from. Head Northeast and you'll find McKinley Park a 26.71 acre park that was one of Tacoma's first parks, founded in 1901. There are paths, playground equipment, and a off-leash demonstration area for pets. For fine dining and a terrific view of downtown Tacoma grab a bite to eat Stanley & Seaforts, a local favorite.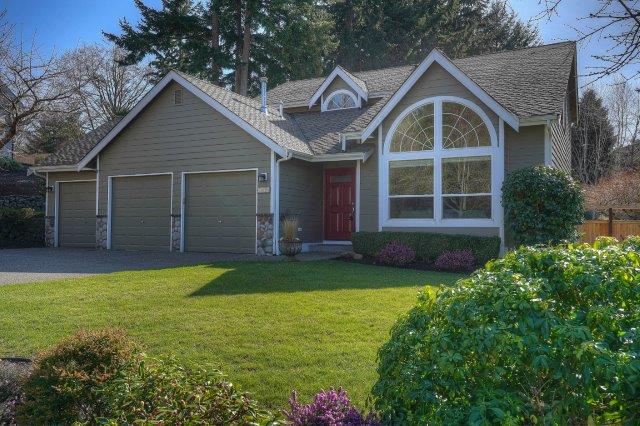 7616 44th St Ct NW, Gig Harbor WA
The Essentials:
1,897 Sq. Ft.
12,800 Sq. Ft. Lot
4 Bedrooms / 2.5 Bathrooms
Professionally Landscaped Lot
Popular Whitley Hills Location
Offered for $650,000
Click here to view the listing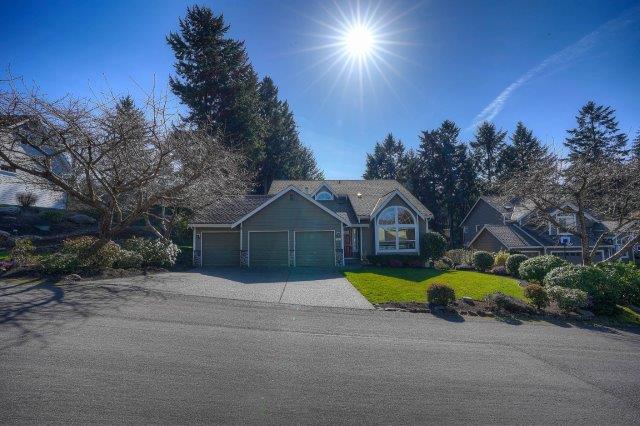 Welcome to this immaculately maintained home in Whitley Hills. Nestled in the quaint Maritime City of Gig Harbor, this home is situated perfectly near plentiful dining, shopping, entertainment options! Come inside and see the terrific upgrades!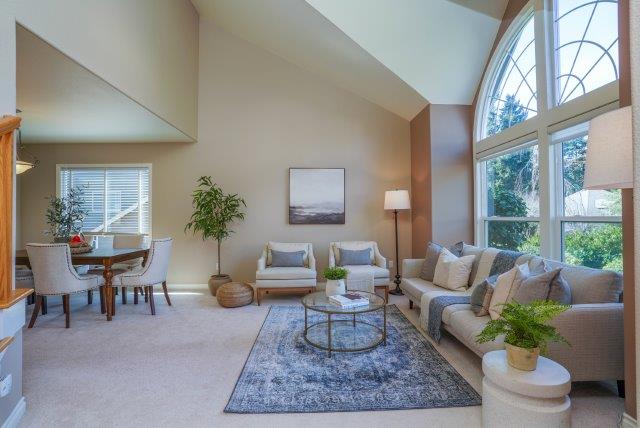 As you enter you'll immediately feel right at home! The owner's have meticulously maintained this home and have continued to add upgrades along the way with loving care.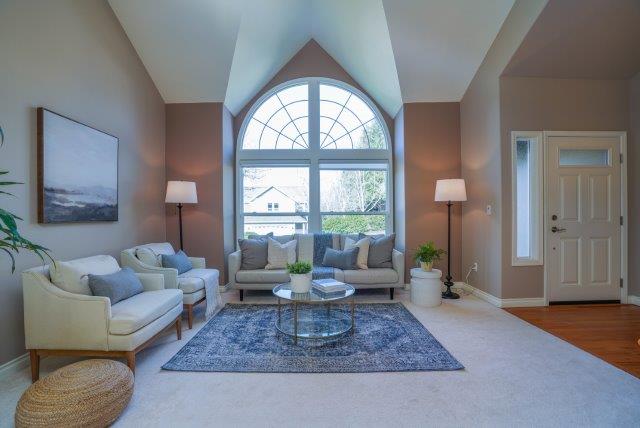 The focal point of the living room must be this stunning window under a high vaulted ceiling that allows the natural light to filter through. The furnace has been replaced by WA Energy Services with a Comfortmaker furnace  There is also a programable Honeywell thermostat to keep the temperatures just right for you!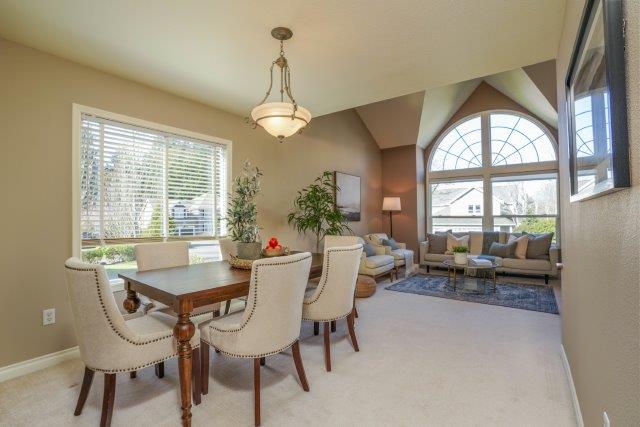 The living room blends right into the formal dining room complete with 2″ Smith and Noble blinds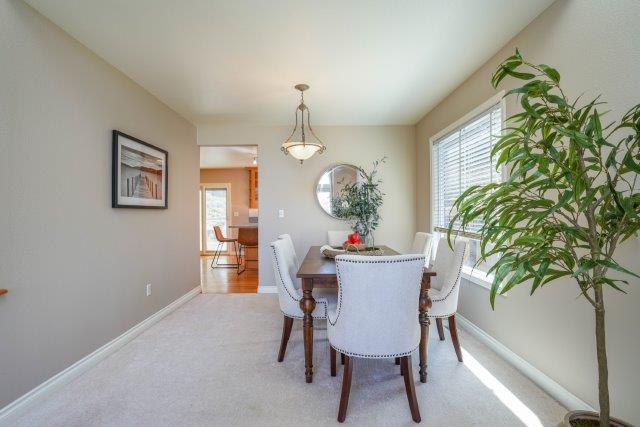 Entertaining will be enjoyable with the easy flow of this floorplan. Enjoy small or larger gatherings with friends and family!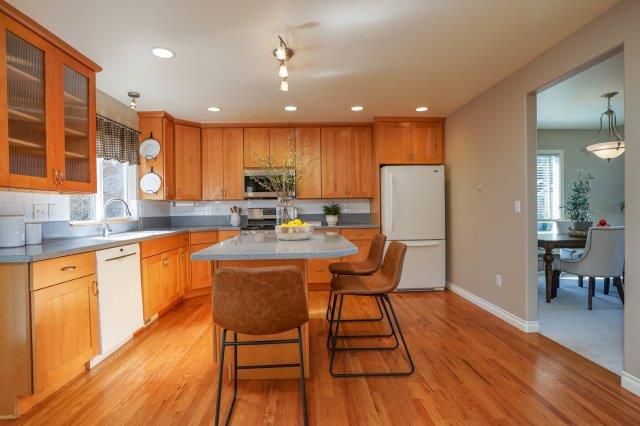 Pass into the kitchen with many upgrades to delight the home chef. The kitchen island is ideal for laying out a spread while entertaining or enjoying a quick meal.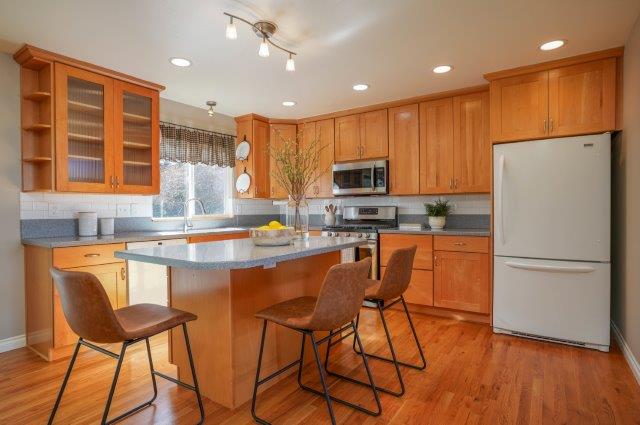 Begin with these lovely new Thomasville kitchen cabinets and a convenient kitchen island. The new Corian countertops are sleek and durable and the backsplash has been upgraded with subway tile to complete the look. There is also a new Corian sink!
The open concept from kitchen to the family room allows everyone to stay together while the chef prepares meals. Enjoy new oak hardwood flooring from kitchen to family room and hallway. The slider leads to the expansive deck for easy trips to the barbecue during the spring and summer. A gas fireplace in the family room is nice to cozy up to on the chilly nights as you relax and binge watch your favorite shows or read a terrific new book.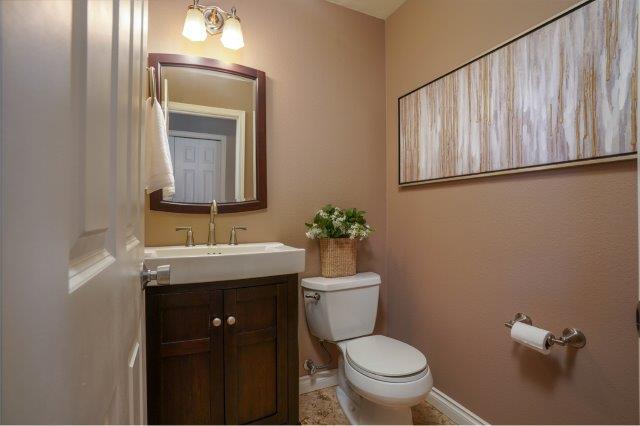 Continue down the hallway and there is a quaint powder bath…
Head upstairs to the Master Ensuite and enjoy soothing color where you'll rest your head at night. There is ample natural light and a Hunter ceiling fan to keep you comfortable on the warmer days in the pacific northwest.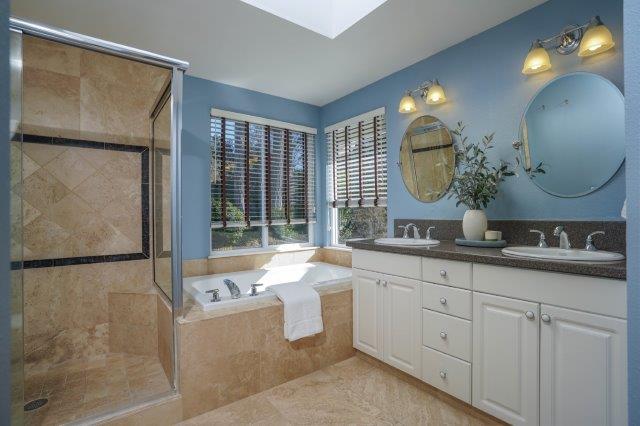 The Master Suite features a perfect, 5 piece private bath and a spacious walk in closet. Ready to be pampered? The floor is heated to keep your tootsies warm and the sinks have been upgraded to these stylish Kohler sinks. All toilets in this home have also been upgraded to Kohler.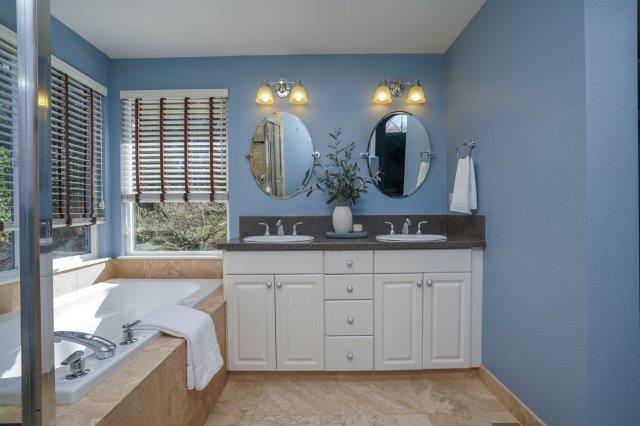 Grab your favorite glass of liquid relaxation, lay back and soak the aches away in this perfectly sized garden tub. There's plenty of space on this tile surround to light candles and really set a relaxing mood 🙂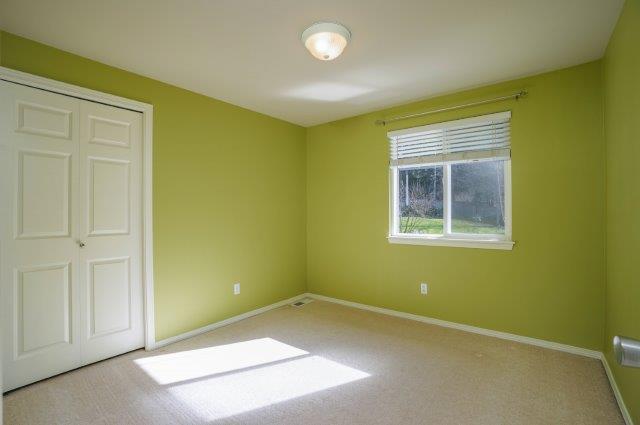 The upstairs also features 3 additional bedrooms in designer, professionally painted colors as well.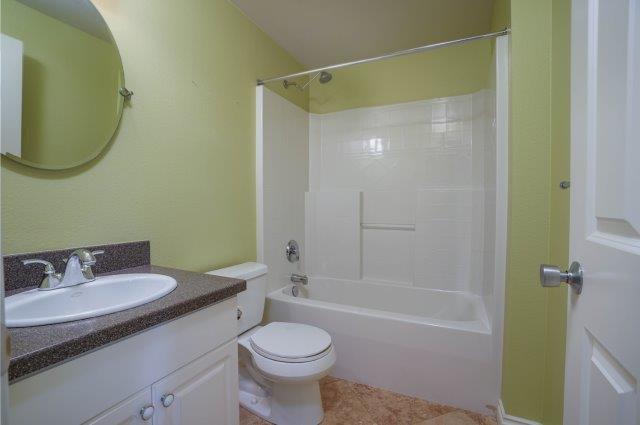 The main bathroom upstairs features a tub surround and Kohler sink
Each bedroom is very spacious, crisp and clean!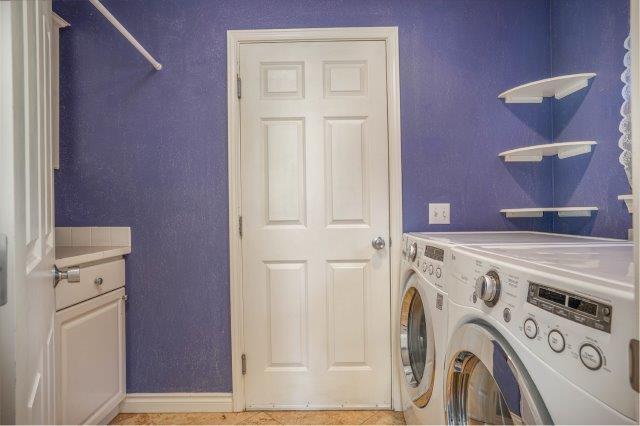 On your way out to the garage you'll find the convenient utility room with a long table to the left for folding laundry. There's cabinetry above to keep your cleaning products neatly tucked away.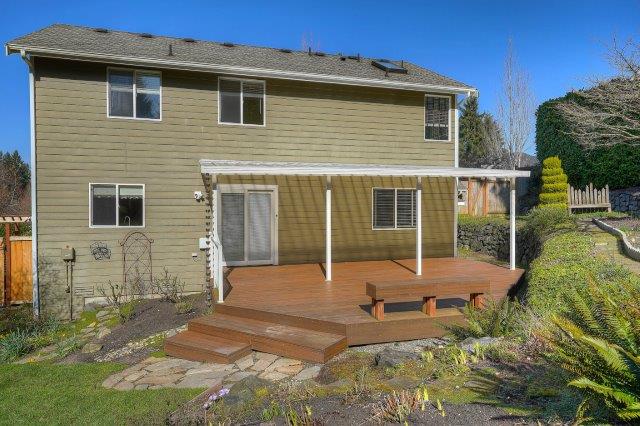 Now head outside from the family room for some fun in the sun on this huge new Trex deck ready for your barbecue and patio furniture! The exterior of this beautiful home has been recently professionally painted and the patio door has been upgraded to a larger, Pella patio door.
Enjoy countless hours outdoors in this fully fenced and spacious back yard that is all set for the littles and furry ones to enjoy some playtime! The professional landscaping includes many florals, ornamentals and there are even 4 blueberry bushes!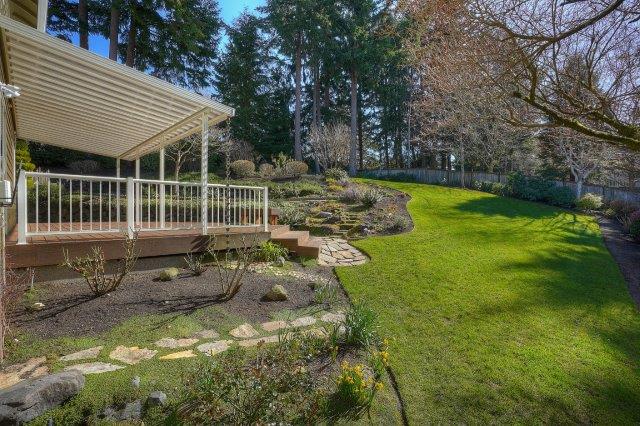 If you're an outdoor enthusiast Gig Harbor is the place to be! The close proximity to many parks offers a plethora of options to enjoy hiking, biking, nature trails, fishing from the pier and off leash dog parks. Enjoy a round of golf? You're just minutes away from the Gig Harbor Golf Club and Madrona Links for a fun day chasing the little white ball around. This home is just minutes away from Uptown Gig Harbor that features the convenience of over 35 shops, specialty stores, restaurants and the Galaxy Theatre. If you love the water, head down and take a stroll on the Gig Harbor Waterfront to enjoy quaint little shops, restaurants and watch the boats and harbor seals. Make Gig Harbor your home today!